Here are some things you can do while you are staying here in Huntsville.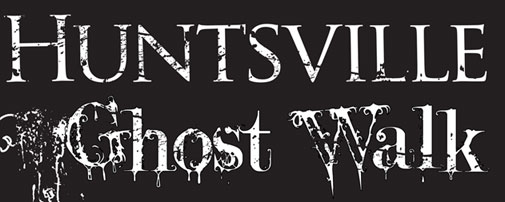 Walking Ghost Tour – Thursday night April 11th from 6:30pm – 8:00pm
A walking tour through main streets and dark alleys of our historic town yield true tales of Huntsville's fascinating past, from the slaves who walk slowly and silently along the fence at the LeRoy Pope mansion to a Union soldier hiding from Johnny Reb at the Big Spring. Residual hauntings of past murders play themselves over again like a staccato movie reel and the ghost of a WWI soldier grievously wounded in the Argonne Forest occasionally shows up in photographs. Phantom children sing a haunting tune about the 1918 flu epidemic, and the birthplace of a well-known Confederate general has a frightening presence.
Some of the homes on the ghost walk date back 200 years, as do the early residents who seem reluctant to let go. In the meantime, the ghost of a man who was hanged at the courthouse square is still angry over the circumstances of his death, although he admits he killed Elias Waldrop in 1904. Another prominent businessman shot two men to death in 1909 for no apparent reason, but through the clarity of his own death, he is profoundly sorry and shocked at what he has done. These stories, and many more, are the scenes that make up Huntsville's fascinating history.
Join the Huntsville Ghost Walk on Thursday night April 11, for a 1.5 hour walking tour through Huntsville's historic and haunted past. Don't believe in ghosts? We don't care!
Tickets are $10 per person for adults and $5 for children 12 and under. If you plan to attend the Huntsville Ghost Walk on Thursday, April 11, you must RSVP to jacqueprocter@aol.com. The tour leaves from Harrison Brothers Hardware Store at 124 South Side Square.
For more information, see www.huntsvilleghostwalk.com.
---
The Rocket City Rover is a 14-person party bike.  With 6 comfy bike seats, 2 of which are pedal-free, and a two-person bench in the back, you can choose to pedal to the music or relax while others chauffeur you in style in between stops to exciting downtown destinations.
If the thought of pedal pumping makes you weak in the knees, the on-board electric motor can be activated so you can take it easy.  For those who are interested in getting a heart pumping workout, downtown's gentle hills and valleys offer even the most experienced riders a challenge when the motor is not engaged.
https://www.rocketcityrover.com
---
Brewery Tour at Straight to Ale on Saturday April 13th at 2:00pm. Contact Lauren to RSVP
Lauren (lauren@straighttoale.com) – (256) 801 – 9650