May 2019 Newsletter
May 2019 Newsletter
Madison Section Newsletter
Vol. 22, No. 5             Serving IEEE Members of South Central Wisconsin               May 2019
Upcoming Meetings
IEEE Life Member Affiliate Meeting: "Wisconsin Energy Institute Tour"
Date/Time: Monday, May 13th, 2:45pm - 4:00pm
Announcements
Volunteers Needed!  See below for more information
It's time to Renew you IEEE Membership!
Past Meetings
Review of April Section Meeting
"Cybersecurity and You: Recommendations on Protecting Your Personal Digital Assets"
Review of April ECN

Panel Discussion
DLSMC: Standards Update Required for Medical Compliance
May Life Member Affiliate Meeting: "WEI Tour"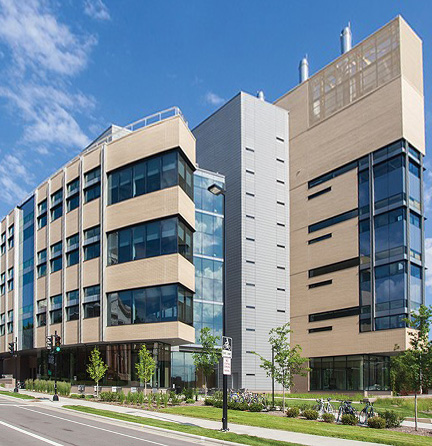 Monday, May 13th, 2:45-4:00 PM
Tour Guide: Mary Blanchard - WEI Associate Director
Location:
    Wisconsin Energy Institute
1552 University Avenue, Madison
53726
Please Register at the IEEE-Madison  event page.
Title: Talk about and Tour of the Wisconsin Energy Institute
Talk: We will learn about current WEI research and partnerships.We will visit a lab space of the Great Lakes Bioenergy Research Center, a Department of Energy-funded center focused on developing sustainable biofuels and bioproducts. We will visit the the high bay lab of the Wisconsin Electric Machines and Power Electronics Consortium (WEMPEC).
Bio:  Formerly the Director of Marketing and Governmental Affairs at Virent, Inc., Mary Blanchard brings an extensive knowledge of the biofuel industry and a broad understanding of the economic, social and environmental opportunities created by sustained, cross-disciplinary research on energy. She holds bachelor's degrees in Electrical Engineering and English from the University of Notre Dame, a master's degree from the London School of Economics, and a MBA from Northwestern University.
WEI: The Wisconsin Energy Institute (WEI) is the collaborative home of energy research and education on the University of Wisconsin–Madison campus. WEI is tackling one of the most critical challenges of our time – the transition away from fossil fuel dependence toward new clean energy systems and solutions. A leader in clean energy research, WEI is led by scientists and engineers committed to crossing traditional research boundaries and making major breakthroughs. WEI works closely with industry leaders to ensure that its technologies strengthen Wisconsin's economy and improve the health and wellbeing of its citizens. WEI also provides a place for the exchange of forward-looking ideas. They create a public forum in which to learn about and discuss energy challenges, and help prepare students and community members to take the lead in transitioning the world to clean energy.
From basement to rooftop, WEI's LEED Gold Certified building incorporates some of the most innovative and forward-thinking technologies of our time. Opened in 2012, WEI's 107,000 square foot building is designed to use 52% less energy than code minimum. Some of its features include:
Five photovoltaic solar arrays on two different roof levels with the capability of producing 26 kilowatts of electricity feeding directly into WEI's grid;
A Heat Recovery System including a glycol heat reclaim module and a 20-ton heat pump chiller system for recovering wasted building heat;
Chilled beam technology for cooling office areas;
High-density server cooling racks providing redundant power and cooling at every enclosure to maximize space and minimize energy use;
Low-flow plumbing fixtures providing water savings of 33% compared to typical fixtures;
Building design and orientation optimized for daylight, reducing electricity demand;
Reclaimed and recycled wood, glass, steel, and carpet used throughout the building; and
More than 35% of electricity provided by green power.
The building's wet and dry laboratories also have a flexible, "plug and play" design allowing research teams to easily adapt or reconfigure their workspace for new projects or collaborations.
Volunteers Needed: Are you interested in volunteering?  If so, IEEE Madison is looking for a few people interested in a few exciting new volunteer positions.First, the Executive Committee is looking to fill a new position of auditor.  This position will work with the Treasurer and the Executive Committee to review all expenditures and ensure that IEEE Madison remains compliant with all IEEE policies and procedures, as well as applicable laws.  The auditor will also serve on the Finance and Audit committee.  If you are interested and wondering how much time this volunteer position will require, it is estimated that it will be at most a couple hours per month.  If you are interested, please contact Nathan Toth, IEEE Madison Section Chair, at tothnj@ieee.org.

Secondly, IEEE Madison will be forming an Ethics Committee.  The purpose of the Ethics Committee will be to foster awareness of ethical issues, promote ethical behavior among members of IEEE Madison, and advise the Executive Committee on IEEE Ethics policy and concerns.  The Ethics Committee will consist of 3 or more members of IEEE.  For those interested in volunteering for the ethics committee, please contact Nathan Toth, IEEE Madison Section Chair, at tothnj@ieee.org.  The time commitment for this committee will be approximately 2 hours per month.
Volunteering for IEEE Madison helps to grow a community of engineers, scientists, and technologists in the Madison area.

If you are interested in any of the above positions or are interested in volunteering for any other position or task, please contact Nathan Toth at tothnj@ieee.org.

Renew your IEEE Membership:  It is that time of year to renew your IEEE Membership and help support the Madison Section.  A portion of your dues goes to financially support the Section, allowing us to host events with little or no cost to members.  To renew your membership, click on this RENEW NOW link.
Review of April Section Meeting: "Cybersecurity and You: Recommendations on Protecting Your Personal Digital Assets"
Nate Toth gave a well-attended, but long talk on what you can do to protect against a number of threats to your personal digital assets.  He broke down the threats into Nation State Actors (not really a threat to individuals), Individual Actors (usually hackers out for fun or to do mischief), Organized Actors (typically out for financial gain) and Data Collectors.  Organized Actors pose a real financial threat while the Data Collectors (such as Google, Facebook) use information gained about you for commercial gain.
Nate suggested that managing your digital assets takes time and the first thing you should do is write down a list of the assets, including: Financial accounts, Social media accounts, Streaming media accounts, Entertainment accounts, Backup software, File storage, Email accounts, and Other cloud services. Next, identify potential threats (is anyone angry at you, or do you have valuable assets that would cause big harm if lost?). Apply software updates (that usually close loopholes or patch security holes) frequently. Bearing in mind that your data is also a valuable asset, make sure you have a backup plan to secure it and also secure passwords (or even two-factor authentication) to access it.  Make sure that your email and financial banking passwords are secure and NEVER use open-access WiFi.
Nate had many good suggestions -- please see his full presentation slides including notes here.  If you can't do that you should at least do the following:
Inventory your accounts
Make sure your email and financial passwords are secure
Apply software updates frequently/automatically to patch security holes
Limit use of unsecured WiFi networks -- your cell phone carrier is more secure than WiFi
Use care when browsing and NEVER click on links you don't recognize.
Disconnect you devices from the servers/networks once in a while.
Review of April ECN Meeting:
Though the meeting was poorly attended, the attendees benefited from the depth of knowledge and experience of the panelists.  Each panelist summarized their experience, relating important lessons.  Several of the non-panel attendees added their own perspectives and experience. My takeaway was that you should know the market, "sell the demo", get others to pay for the development, and not try to do basic science in the startup.  All supported the idea that networking was very important since you did not know what contacts would bear fruit.
IEEE Madison Leadership
Section Chair – Nate Toth
Section Vice Chair – Hugh Schmidt
Section Treasurer – Tom Kaminski
Section Secretary – Mike Stemper
Webmaster – Nate Toth
PES/IAS Chair – Dan Ludois
PES/IAS Vice Chair – Eric Severson
PES/IAS Secretary/Treasurer- Mike Stemper
EMB Chapter Chair – Dennis Bahr
Life Member Affinity Group Chair – San Rotter
Life Member Affinity Group Vice Chair – Charles Cowie
ECN Chair – Tom Kaminski
Young Professionals Chair – Nate Toth
Members at Large: Clark Johnson, Craig Heilman, Dennis Bahr, San Rotter.
Membership Upgrades
Those interested in upgrading their IEEE membership level should send their resumes or other information showing five years of significant performance in an IEEE-designated field to Charles J Gervasi via email at cj(at)cgervasi.com. Madison Section Board will attempt to find Senior IEEE members knowledgeable in the applicant's area of practice who may be able to provide references. You are invited to attend thinformal networking portion of the monthly Section meetings (starting at 11:30am) to meet the Section Board members and discuss intentions.
About IEEE
The Institute of Electrical and Electronics Engineers or IEEE (read Eye-Triple-E) is an international non-profit, professional organization dedicated to advancing technology innovation and excellence for the betterment of humanity. IEEE and its members inspire a global community through IEEE's highly cited publications, conferences, technology standards, and professional and educational activities. It has the most members of any technical professional organization in the world, with more than 300,000 members in around 150 countries. The IEEE consists of 38 societies, organized around specialized technical fields, with more than 300 local organizations that hold regular meetings. Discover what IEEE Member Discounts can offer you. The Member Discounts portfolio consists of insurance products and programs for the home, office and travel, all at excellent group rates and reduced pricing. Visit IEEE Member Discounts to see what's available in your location and enjoy the savings. For more information, please visit: IEEE.ORG.
---