March 2017
March 2017
IEEE-MSN Newsletter
| | |
| --- | --- |
|   | Madison Section Newsletter |
| | | |
| --- | --- | --- |
| Vol. 20, No. 3 | Serving IEEE Members of South Central Wisconsin | March 2017 |
Speaker:  Anton Kapela, 5Nines, Inc.
Topic: "How wireless took me out of CS and into the real world"

Date/Time:

Thursday, March 30,  from 5:15 PM until 6:30 PM

Fee: None

Location: 
    University of Wisconsin
    Computer Science Department
    1210 W. Dayton St.
    Room 1240 
RSVP: Please Register at the IEEE Madison Section event page.
Non-member guests are always welcome.
Parking:  Lot 17and Union South lots are the closest. Check this link for space availability.  
Talk:
 While working at various network, security, and firewall companies in college, the computer sciences used to dominate my professional world view: the solution to every problem I encountered was more or different (obviously "better") code, and unfortunate things like unreliable networks, wireless or otherwise, were mere externalities that our clever code would deal with. At some point I realized this was all untrue, and various outages and failures were "just going to happen" unless something were done to address it within the context of the networking externalities we so emphatically wanted to ignore. What better motivation to start asking fundamental questions, then, about the nature of communications systems, especially popular formats like wireless and mobility networking? Fast-forward 20 years, and here I am — still working on improving fundamental aspects of wireless systems in a variety of contexts.
This presentation will hopefully catch the attention those interested in applying their skills to what is an ever-growing, valuable business sector, especially when contrasted by a backdrop of protracted or stalled "fiber to the X" projects in the US. Since not every engineer gets to work with wireless systems every day, I'll cover some wireless data network history, along with a few general topics in wireless data systems, moving on to describe the extra "stuff" one would encounter in designing and running a truly mobile network, weaving in personal experiences I've had in operating 5NINES' 4G network in the Madison, Wisconsin market. Lastly, I'll present some of the latest cutting-edge wireless research that the UW WiNGS lab has been conducting with 5NINES, with special attention paid to how we utilize a single 4G WiMAX & LTE network to co-operate a functional mobility network that supports experimental work alongside normal Internet access users.

Bio:
 Anton is an energetic, broadly experienced technology executive focused on developing and deploying high­value, cutting­edge communication networks. Over the past 10 years as CTO and partner at 5NINES LLC, Anton has become internationally recognized as a uniquely gifted expert in wireless networking. He's pioneered ultra­low­latency radio communication for high­frequency trading firms, and as a principal at Windy Apple Technologies Inc., he co­designed, deployed, and operated a point­to­point, long­haul microwave network, spanning the 700+ mile distance between Chicago and New York City. Previous to Windy Apple, the only other company to deploy a terrestrial microwave network of this scale was AT&T. Anton has also applied his insights most famously in the realm of Internet routing security, where he was featured in a 2008 WIRED article titled "Revealed: The Internet's Biggest Security Hole." Past experience includes technical systems and intellectual property valuation for M&A in the Internet Service Provider and Mobile Network Operator industries..
Topic:  Your Activities
Thursday, April 6th, 11:45-1:00 PM

Social/Professional Meeting

Fee: Free


Location: 
    Sector67
    2100 Winnebago Street
    Madison,  WI

Snacks and Drinks are available at Sector67
Please Register at the IEEE-Madison  event page.
Non-member guests are always welcome.


Talk:

Be prepared to give give a brief introduction to what you do ("Elevator Speech").  This is your opportunity to discuss your company, or your consulting expertise.

Event:  Family Fun Event and Technical Talk on the Ice Cube Project

Date/Time:

Saturday, April 29th,  from 9:00 AM until 2:00 PM
Museum opens at 9:00 AM and closes at 3:00 PM
Lunch at 12:00 Noon
Technical Talk at 1:00 PM
Speaker: Professor Francis Hazen of the IceCube Project
Talk: The IceCube Project
Lunch: Pizza and a Drink — Free!

Location: 
    Wisconsin Science Museum
    211 N. Carroll St., Madison, Wisconsin
    Building: Madison College Downtown Campus
    Room Number: 6th Floor South
RSVP: Please Register at the IEEE Madison Section event page.
  Non-member guests are always welcome.
Member Donations: IEEE Madison will Match them (up to a limit).

Event: This is a Family Event along with a Technical Talk and a Benefit for the Wisconsin Science Museum.  Bring the whole family to explore the Wisconsin Science Museum and enjoy a lunch on us.  For those more technically interested, stay for the technical talk about the NSF-Sponsored IceCube Neutrino Detector now operational in Antarctica.

Talk:  IceCube is the world's largest neutrino detector, which encompasses a cubic kilometer of ice at the South Pole Station in Antarctica. It is a huge particle detector that records the interactions of a nearly massless subatomic particle called the neutrino. IceCube searches for neutrinos from the most violent astrophysical sources: events like exploding stars, gamma-ray bursts, and cataclysmic phenomena involving black holes and neutron stars. It is a powerful tool to search for dark matter and could reveal the physical processes associated with the enigmatic origin of the highest energy particles in nature.

In addition, exploring the background of neutrinos produced in the atmosphere, IceCube studies the neutrinos themselves; their energies far exceed those produced by accelerator beams.

Speaker: Dr. Francis Hazen is a theoretician studying problems at the interface of particle physics, astrophysics and cosmology. Since 1987, he has been working on the AMANDA experiment, a first-generation neutrino telescope at the South Pole. AMANDA observations represent a proof of concept for IceCube, a kilometer-scale observatory recently completed.

Senior Member Elevation

The IEEE-Madison Section has formed a panel of volunteers who will review applications for elevation to Senior Member.  There many benefits to Senior Member status including recognition, executive leadership, letters of commendation, and a gift certificate and Senior Member Plaque.  Also, Senior Members get to review others for Senior Membership.  If you are interested in elevation to Senior Membership, follow the detailed instructions in this Senior Membership Details Link. Then send an email to the Section Chair ( tjkaminksi (at) ieee.org ) with a copy of the resume submitted.  Your resume will be reviewed and forwarded to the panel for approved references.

Meetings Reviews

January LMAG Meeting: The January LMAG event was a tour of the UW Helically Symmetric Experiment (HSX) laboratory with an introductory presentation, Optimized Stellarators in the Path toward Fusion Energy, by Dr. David T. Anderson, the director of the laboratory.  A stellarator is a device used to confine hot hydrogen plasma with magnetic fields in order to sustain a controlled nuclear fusion reaction. David gave an excellent summary of the concepts and history of fusion research up to the very latest German stellarator. The talk was followed by an excellent tour given by Dave and graduate student Laurie Stephey.

The HSX apparatus is a UW designed and constructed stellarator. It  consists of a stainless steel tubular containment vessel surrounded by magnetic field coils distributed around the path of the vessel. The overall shape of the containment tube is a torus, but the tube cross sectional shape is roughly triangular with large radius corners, the closed path of the tube deviates from a generally circular path and the tube itself is twisted helically. The exact shape and placement of the components are the essentials of the HSX stellarator design.

The hydrogen plasma is heated by microwaves. The current for the field coils is supplied by a flywheel energy storage system. Energy is accumulated gradually and then released as a 200 millisecond, 13,400 amp pulse of current. A variety of instruments and computer software is used to acquire and analyze the characteristics of the plasma in the stellarator. Additional instruments and computers are used to control and monitor the operation of the stellarator systems.

February Section Meeting: Dr. Thomas Jahns gave a talk to a packed room on his vision for a re-imagined power grid.  He discussed the advances in key technologies including microgrids and energy storage, that are resulting in rapid increases in the installed electric power production in industrial plants as well as in commercial and residential buildings. This new distribution system architecture provides a promising framework for distributed energy resources to deliver the same services as we now receive from our current grid system at competitive rates, with reduced power losses, lower emissions, and improved reliability. Dr. Jahns also discussed the WEMPEC program that provides a world-renowned consortium of companies that provide power systems components and enabling technologies.


Upcoming Meetings


The March Section Meeting is being held jointly with the Computer Sciences Department at UW-Madison. Anton "Tony" Kapela will give a talk based on his experience gained through practical considerations in the design of Wireless Networking for 5Nines (link here). He has been collaborating on NSF-supported primary mobility networking research, via connection with the UW "WiNGS" lab at UW-Madison. Tony also designed and implemented a Chicago to New York City wireless network in 2010. The purpose of that network was to "beat" the velocity of propagation of single-mode fiber optic cable (typically .6 to .7 of (c)) by using free-space radio waves (6 GHz FCC part 101 licensed band), relaying across some 17 tower sites, landing on either end atop tall buildings in each metro area. At the time, the best time to beat was 13.3 milliseconds round-trip — he got the latency down to under 9.9 milliseconds by 2011 with under $2M of initial investment. This should be an interesting talk, merging the practical with the theoretical and loaded with war-stories.

The April joint IEEE-Madison Section and  LMAG meeting is planned as a Family Event with a visit to the Wisconsin Science Museum and a technical talk on the IceCube Neutrino Detector Array in Antarctica.  This is also your opportunity to support the Wisconsin Science Museum with a tax-deductible donation that will be matched by the IEEE-Madison Section (up to a limit!). Make it a family fun day with a visit to the Farmer's Market (in session that Saturday), a visit to the museum including a free lunch, and a great technical talk.  Find out how burying strings of detectors into a kilometer-scale ice cube produced the world's biggest neutrino detector.

The Wisconsin Society of Professional Engineers, in conjunction withe the IEEE-Milwaukee Section is putting on a seminar on Project Management that will give 8 PDH Hours.  IEEE-Madison has agreed to partially fund the cost of the seminar for IEEE-Madison Members who attend.  For details about the conference see the Milwaukee IEEE Section link
. If you elect to attend, contact CJ Gervasi for the partial reimbursement ( cgervasi (at) fourlakestechnology.com ).
Section Meetings

The third Thursday of January through May, and September through December is reserved for a meeting to provide recent research, developments, trends and/or innovations in one of our membership's technical areas.

Life Member Affinity Group

The first Thursday of January, March, May, September and November is reserved for a meeting on a topic selected from a broad range including such areas as technology, science, history, culture and leisure.

IEEE-MSN-ECN Networking Meetings

Purpose: Presentations, Discussions, networking
Date: First Thursday of even-numbered months
Time: 11:45 AM to 1:00 PM
Location: Sector67, 2100 Winnebago Street (East Side of Madison)
Parking: Park in lot or on Winnebago Street.
Process: Members are encouraged to make introductions, describe endeavors, and make request for: contacts in target companies, needs, resources.

Those interested in upgrading their IEEE membership level should send their resumes or other information showing five years of significant performance in an IEEE-designated field to Charles J Gervasi via email at cj(at)cgervasi.com. Madison Section Board will attempt to find Senior IEEE members knowledgeable in the applicant's area of practice who may be able to provide references. You are invited to attend the informal networking portion of the monthly Section meetings (starting at 11:30am) to meet the Section Board members and discuss intentions.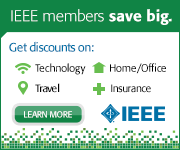 The Institute of Electrical and Electronics Engineers or IEEE (read Eye-Triple-E) is an international non-profit, professional organization dedicated to advancing technology innovation and excellence for the betterment of humanity. IEEE and its members inspire a global community through IEEE's highly cited publications, conferences, technology standards, and professional and educational activities. It has the most members of any technical professional organization in the world, with more than 300,000 members in around 150 countries. The IEEE consists of 38 societies, organized around specialized technical fields, with more than 300 local organizations that hold regular meetings. Discover what IEEE Member Discounts can offer you. The Member Discounts portfolio consists of insurance products and programs for the home, office and travel, all at excellent group rates and reduced pricing. Visit IEEE Member Discounts to see what's available in your location and enjoy the savings. For more information, please visit:
Madison IEEE Section

The IEEE-Madison Section of the IEEE is a section in Region 4 of the IEEE-USA organized to serve IEEE members in the Madison, WI area with over 600 members. The 2016 Officers and Board Members are Tom Kaminski – Chair, Scott Olsen – Vice Chair, Charles Gervasi – Treasurer, Steve Schultheis – Secretary, Nate Toth – Webmaster, Tom Kaminski – ECN Chair, Dennis Bahr – Engineering in Medicine and Biology Chapter Chair,  Chuck Kime – Life Member Affinity Group Chair, Charles Cowie – Life Member Affinity Group Vice Chair, David Jensen – Life Member Affinity Group Secretary, Members at Large: Clark Johnson, Craig Heilman, Dennis Bahr, Sandy Rotter.

Job Openings

Check out WIEES.com for electrical engineering jobs in Madison and the surrounding region. This site is maintained as a service for electrical engineers. Jobs are displayed starting with the most recent postings first. You can filter results by location and job type. If you are hiring an electrical engineer in our area, for full-time or contract work, you can post the job in the Contact Us section on the WIEES.com site.

LearnEMC Short Courses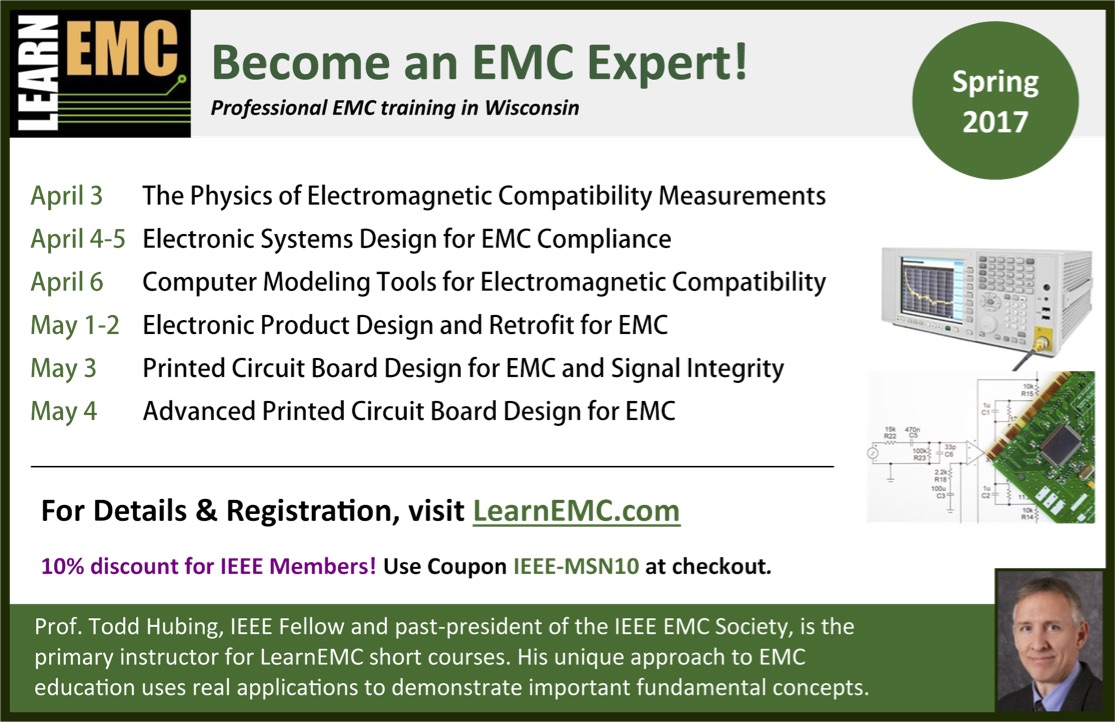 <!–
–>

---