February 2017
February 2017
IEEE-MSN Newsletter
| | |
| --- | --- |
|   | Madison Section Newsletter |
| | | |
| --- | --- | --- |
| Vol. 20, No. 2 | Serving IEEE Members of South Central Wisconsin | February 2017 |
Speaker:  Dr. David Anderson, UW-Madison ECE Department
Topic:  Optimized Stellarators in the Path toward Fusion Energy
Tour: HSX Plasma Laboratory

Date/Time:

Tuesday, January 31,  from 5:30 PM until 7:00 PM

Fee: None

Location: 
    University of Wisconsin
    1415 Engineering Drive, Madison, Wisconsin
    Engineering Hall
    Room: 2534 
RSVP: Please Register at the IEEE Madison Section event page.
Non-member guests are always welcome.
Parking:  Lot 17 is the closest. Check this link for space availability. 
Talk: Controlled thermonuclear fusion presents the possibility of virtually limitless energy with no greenhouse gas emissions. The challenges to making this a reality are daunting. Never-the-less, over 20 MW of fusion power has been released in laboratory experiments and an international effort (ITER) is underway to produce 500 MW of fusion power for periods up to ½ hour to study "burning plasmas" (predominantly self-heated). ITER is based upon the tokamak concept, which has achieved the highest plasma parameters to date. An alternative concept to the tokamak, the stellarator, possesses significant engineering advantages when considered as a power-producing reactor, and recent work in "optimized" stellarators shows great promise. HSX (the Helicaly Symmetric Experiment) is the first of this new generation of optimized stellarators. This talk will focus on the present state of fusion research and the role of the stellarator in addressing open issues, and HSX contributions to the program. We will conclude with a tour of the HSX facility in Engineering Hall.
Bio: David Anderson received his Ph.D. degree from the University of Wisconsin-Madison in 1984 with a major in Electrical Engineering. He was employed as a scientist there from 1980-1999, and has been a professor in the Department of Electrical and Computer Engineering since that time, currently holding the Jim and Anne Sorden professorship. He also holds an affiliate appointment as a professor in the Physics Department. His main interests are in experimental plasma physics research focused on controlled thermonuclear fusion and teaches predominantly in this area and electromagnetics. He has served on numerous advisory and review committees for national laboratories and international programs and is the Director of the HSX Plasma Laboratory.
Topic:  Your Activities
Thursday, February 2nd, 11:45-1:00 PM

Social/Professional Meeting

Fee: Free


Location: 
    Sector67
    2100 Winnebago Street
    Madison,  WI

Snacks and Drinks are available at Sector67
Please Register at the IEEE-Madison  event page.
Non-member guests are always welcome.


Talk:

Be prepared to give give a brief introduction to what you do ("Elevator Speech").  This is your opportunity to discuss your company, or your consulting expertise.

Speaker:  Dr. Thomas Jahns, UW-Madison ECE Department
Topic:  Transforming the Electric Grid from the Distribution System Out

Date/Time:

Thursday, February 16,  from 5:00 PM until 7:00 PM

Fee: Pizza and a Drink for $5 Members, $10 Non-Members, Students Free

Location: 
    University of Wisconsin
   1513 Engineering Drive, Madison, Wisconsin
   Mechanical Engineering Building
   Room:  ME 1152
RSVP: Please Register at the IEEE Madison Section event page. Non-member guests are always welcome.
Parking:  Lot 17 is the closest. Check this link for space availability. 

Talk: Multiple forces are combining to encourage significant expansions in the use of distributed energy resources in the electric grid, including the declining cost of distributed renewable energy sources and major initiatives in some states to significantly reduce their carbon emissions. These drivers, combined with advances in key technologies including microgrids and energy storage, are resulting in rapid increases in the installed electric power production in industrial plants as well as in commercial and residential buildings. This new distribution system architecture provides a promising framework for distributed energy resources to deliver the same same services as we now receive from our current grid system at competitive rates, with reduced power losses, lower emissions, and improved reliability. The challenges and opportunities associated with this re-imagined distribution system architecture will be reviewed, drawing attention to progress that has already been achieved and the substantial work that remains to be done.

Speaker: Prof. Thomas M. Jahns received his bachelors, masters, and doctoral degrees from MIT, all in electrical engineering. Dr. Jahns joined the faculty of the University of Wisconsin-Madison in 1998 as a Grainger Professor of Power Electronics and Electric Machines in the Department of Electrical and Computer Engineering. He is a Co-Director of the Wisconsin Electric Machines and Power Electronics Consortium (WEMPEC), an industrial consortium with over 85 international sponsors. Dr. Jahns is also the Research Director of the Integrated Energy Systems Laboratory (IESL) at the UW Wisconsin Energy Institute (WEI).

Dr. Jahns is a Fellow of IEEE. He received the 2005 IEEE Nikola Tesla Technical Field Award "for pioneering contributions to the design and application of AC permanentmagnet machines". Dr. Jahns is a Past President of the IEEE Power Electronics Society and the recipient of the 2011 Outstanding Achievement Award presented by the IEEE Industry Applications Society.

Section Meetings

The third Thursday of January through May, and September through December is reserved for a meeting to provide recent research, developments, trends and/or innovations in one of our membership's technical areas.

Life Member Affinity Group

The first Thursday of January, March, May, September and November is reserved for a meeting on a topic selected from a broad range including such areas as technology, science, history, culture and leisure.

IEEE-MSN-ECN Networking Meetings

Purpose: Presentations, Discussions, networking
Date: First Thursday of even-numbered months
Time: 11:45 AM to 1:00 PM
Location: Sector67, 2100 Winnebago Street (East Side of Madison)
Parking: Park in lot or on Winnebago Street.
Process: Members are encouraged to make introductions, describe endeavors, and make request for: contacts in target companies, needs, resources.

Those interested in upgrading their IEEE membership level should send their resumes or other information showing five years of significant performance in an IEEE-designated field to Charles J Gervasi via email at cj(at)cgervasi.com. Madison Section Board will attempt to find Senior IEEE members knowledgeable in the applicant's area of practice who may be able to provide references. You are invited to attend the informal networking portion of the monthly Section meetings (starting at 11:30am) to meet the Section Board members and discuss intentions.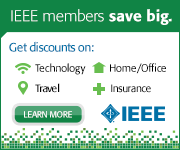 The Institute of Electrical and Electronics Engineers or IEEE (read Eye-Triple-E) is an international non-profit, professional organization dedicated to advancing technology innovation and excellence for the betterment of humanity. IEEE and its members inspire a global community through IEEE's highly cited publications, conferences, technology standards, and professional and educational activities. It has the most members of any technical professional organization in the world, with more than 300,000 members in around 150 countries. The IEEE consists of 38 societies, organized around specialized technical fields, with more than 300 local organizations that hold regular meetings. Discover what IEEE Member Discounts can offer you. The Member Discounts portfolio consists of insurance products and programs for the home, office and travel, all at excellent group rates and reduced pricing. Visit IEEE Member Discounts to see what's available in your location and enjoy the savings. For more information, please visit:
Madison IEEE Section

The IEEE-Madison Section of the IEEE is a section in Region 4 of the IEEE-USA organized to serve IEEE members in the Madison, WI area with over 600 members. The 2016 Officers and Board Members are Tom Kaminski – Chair, Scott Olsen – Vice Chair, Charles Gervasi – Treasurer, Steve Schultheis – Secretary, Timothy Chapman – Webmaster, Tom Kaminski – ECN Chair, Dennis Bahr – Engineering in Medicine and Biology Chapter Chair,  Charles Cowie – Life Member Affinity Group Chair, Chuck Kime – Life Member Affinity Group Vice Chair, Members at Large: Clark Johnson, Craig Heilman, Dennis Bahr, Sandy Rotter.

Job Openings

Check out WIEES.com for electrical engineering jobs in Madison and the surrounding region. This site is maintained as a service for electrical engineers. Jobs are displayed starting with the most recent postings first. You can filter results by location and job type. If you are hiring an electrical engineer in our area, for full-time or contract work, you can post the job in the Contact Us section on the WIEES.com site.

Madison Science Museum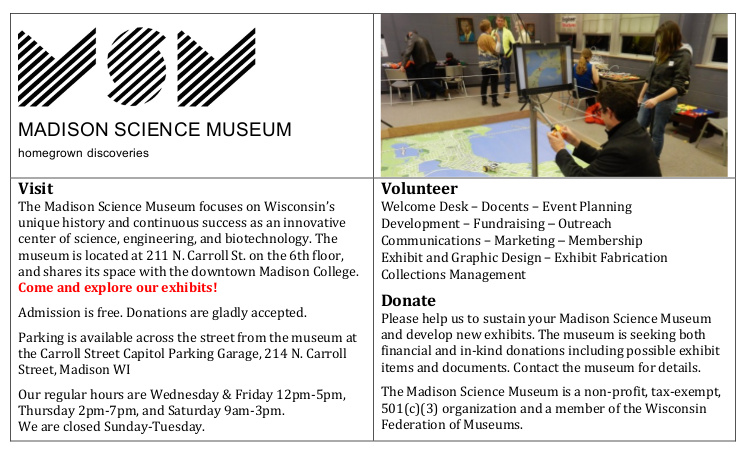 <!–
–>

---