April 2017
April 2017
IEEE-MSN Newsletter
| | |
| --- | --- |
|   | Madison Section Newsletter |
| | | |
| --- | --- | --- |
| Vol. 20, No. 4 | Serving IEEE Members of South Central Wisconsin | April 2017 |
Event:  Family Fun Event and Technical Talk on the Ice Cube Project

Date/Time:

Saturday, April 29th,  from 9:00 AM until 2:00 PM
Museum opens at 9:00 AM and closes at 3:00 PM
Lunch at 12:00 Noon
Technical Talk at 1:00 PM
Speaker: Professor Francis Hazen of the IceCube Project
Talk: The IceCube Project
Lunch: Pizza and a Drink — Free!

Location: 
    Wisconsin Science Museum
    211 N. Carroll St., Madison, Wisconsin
    Building: Madison College Downtown Campus
    Room Number: 6th Floor South
RSVP: Please Register at the IEEE Madison Section event page.
  Non-member guests are always welcome.
Member Donations: IEEE Madison will Match them (up to a limit).

Event: This is a Family Event along with a Technical Talk and a Benefit for the Wisconsin Science Museum.  Bring the whole family to explore the Wisconsin Science Museum and enjoy a lunch on us.  For those more technically interested, stay for the technical talk about the NSF-Sponsored IceCube Neutrino Detector now operational in Antarctica.  Child care for young children will be provided for those parents wishing to attend the technical talk.

Talk:  IceCube is the world's largest neutrino detector, which encompasses a cubic kilometer of ice at the South Pole Station in Antarctica. It is a huge particle detector that records the interactions of a nearly massless subatomic particle called the neutrino. IceCube searches for neutrinos from the most violent astrophysical sources: events like exploding stars, gamma-ray bursts, and cataclysmic phenomena involving black holes and neutron stars. It is a powerful tool to search for dark matter and could reveal the physical processes associated with the enigmatic origin of the highest energy particles in nature.

In addition, exploring the background of neutrinos produced in the atmosphere, IceCube studies the neutrinos themselves; their energies far exceed those produced by accelerator beams.

Speaker: Dr. Francis Hazen is a theoretician studying problems at the interface of particle physics, astrophysics and cosmology. Since 1987, he has been working on the AMANDA experiment, a first-generation neutrino telescope at the South Pole. AMANDA observations represent a proof of concept for IceCube, a kilometer-scale observatory recently completed.

April  19th  WPSE

Project Management Seminar


Link: Click here for more information.

Date and Time:
     Wed, April 19, 2017
     7:30 AM – 5:00 PM CDT
Location:
     Milwaukee Marriott West
     W231N1600 Corporate Court
     Waukesha, WI 53186

Event:  Technical Talk and Tour of Rockwell Automation/
             SoftSwitching Technologies in Middleton
Date/Time: Thursday, May 11th,  from 5:00 PM until 7:00 PM 
Speakers: Dr. Bill Brumsickle and Josh Kagerbauer Talk: Voltage Quality Assurance for Automated Processes
Dinner: Pizza, beverages, and cookies. Voluntary donation: IEEE Member $5, Guest $1

0

Location: 
    Rockwell Automation
    8155 Forsythia Street
    Middleton, Wisconsin
    United States 53562
    Room: Front entrance
RSVP: Please Register at the IEEE Madison Section event page.
  Non-member guests are always welcome.

Event:

This is a Family Event along with a Technical Talk and a Benefit for the Wisconsin Science Museum.  Bring the whole family to explore the Wisconsin Science Museum and enjoy a lunch on us.  For those more technically interested, stay for the technical talk about the NSF-Sponsored IceCube Neutrino Detector now operational in Antarctica.

Talk:  Highly automated industrial process lines, from aseptic yogurt cup packaging to 120-inch 4K flat panel display fabrication, require a level of electrical power consistency beyond what can be economically provided by electrical utility companies.  A variety of IEEE, IEC, and industry standards exist to evaluate industrial equipment tolerance to voltage variations, particularly voltage sags.  We show why sags are a common problem and discuss methods to reduce the economic consequences.  Then we tour the facility where Rockwell's DySC (Dynamic Voltage Sag Corrector) products, from 1 amp to 2 mega-VA sizes, are assembled and tested.

Speakers: Dr. Bill Brumsickle received his bachelors degree in physics from Univ. of Washington, Seattle, and his masters and Ph.D degrees in electrical power systems from Univ. of Wisconsin—Madison.  Bill joined SoftSwitching Technologies in 1997 and Rockwell Automation in 2012, when Rockwell acquired SST's DySC product line.  He is presently a Senior Engineering Manager.  He is a Senior Member of IEEE and has served on several IEEE and international standards working groups.

Josh Kagerbauer received his bachelors and masters degrees in electrical engineering from Univ. of Wisconsin—Madison.  Josh joined SoftSwitching Technologies in 2006. He has worked on DySC product development for SoftSwitching Technologies and Rockwell Automation for 11 years. Josh is presently the DySC product Hardware Engineering Manager. He is a current member of IEEE.
Senior Member Elevation

The IEEE-Madison Section has formed a panel of volunteers who will review applications for elevation to Senior Member.  There many benefits to Senior Member status including recognition, executive leadership, letters of commendation, and a gift certificate and Senior Member Plaque.  Also, Senior Members get to review others for Senior Membership.  If you are interested in elevation to Senior Membership, follow the detailed instructions in this Senior Membership Details Link. Then send an email to the Section Chair ( tjkaminski (at) ieee.org ) with a copy of the resume submitted.  Your resume will be reviewed and forwarded to the panel for approved references.

Meetings Reviews

March Section Meeting: Tony Kapela from 5Nines gave a detailed technical talk at the Unoversity of Wisconsin Computer Science Department lecture hall.  Turnout for  the talk was over 50 people and many of them were CS students.  Tony's talk spanned a great number interesting areas, including antennas, RF design, Protocols, and a brief history of his education in the field. The talk lasted over an hour with many questions from the audience.  For a detailed review of the talk (provided by Charles Gervasi) click here.  Tony provided us with a link to the slides for his talk (all 108 of them!) here.

Upcoming Meetings


The April joint IEEE-Madison Section and  LMAG meeting is planned as a Family Event with a visit to the Wisconsin Science Museum and a technical talk on the IceCube Neutrino Detector Array in Antarctica.  This is also your opportunity to support the Wisconsin Science Museum with a tax-deductible donation that will be matched by the IEEE-Madison Section (up to a limit!). Make it a family fun day with a visit to the Farmer's Market (in session that Saturday), a visit to the museum including a free lunch, and a great technical talk.  Find out how burying strings of detectors into a kilometer-scale ice cube produced the world's biggest neutrino detector.  There will be child care provided during the talk for those who would like to bring young children to the event and also attend the talk.

The Wisconsin Society of Professional Engineers, in conjunction with the IEEE-Milwaukee Section is putting on a seminar on Project Management April 19th that will give 8 PDH Hours.  IEEE-Madison has agreed to partially fund the cost of the seminar for IEEE-Madison Members who attend.  For details about the conference see the Milwaukee IEEE Section link 
If you elect to attend, contact CJ Gervasi for the partial reimbursement ( cgervasi (at) fourlakestechnology.com ).
May and June Section Meetings
 are in the planning stages and will cover the topics in Power and Robotics. Professor Christopher L. Demarco from the UW ECE Department has enthusiastically agreed to talk at the Madison Section meeting in May. He does not have a firm title at this point, but the presentation will be in the area of: "Wholesale Power Prices and the Engineers' Role in Setting Them." For the June meeting, Dr. Bandara Gamini from UW-Platteville will talk on applications of  Collaborative Robots.   The talk is geared towards manufacturing & applied automation, and the presentation itself is not "arcane engineering formulae" but how the arcane formulae are applied. 
Volunteers Needed

Micro Volunteers: Do you have some time to spare to help IEEE-Madison Section?  Perhaps you have a meeting topic that you would like to see us host and could find a speaker.   Maybe you have time to call a few members who might have forgotten to renew their membership. Particular Need:  Record Video/Audio of meetings for later use. Contact Tom Kaminski (tjkaminski [at] ieee.org) to volunteer
Section Meetings

The third Thursday of January through May, and September through December is reserved for a meeting to provide recent research, developments, trends and/or innovations in one of our membership's technical areas.

Life Member Affinity Group

The first Thursday of January, March, May, September and November is reserved for a meeting on a topic selected from a broad range including such areas as technology, science, history, culture and leisure.

IEEE-MSN-ECN Networking Meetings

Purpose: Presentations, Discussions, networking
Date: First Thursday of even-numbered months
Time: 11:45 AM to 1:00 PM
Location: Sector67, 2100 Winnebago Street (East Side of Madison)
Parking: Park in lot or on Winnebago Street.
Process: Members are encouraged to make introductions, describe endeavors, and make request for: contacts in target companies, needs, resources.

Those interested in upgrading their IEEE membership level should send their resumes or other information showing five years of significant performance in an IEEE-designated field to Charles J Gervasi via email at cj(at)cgervasi.com. Madison Section Board will attempt to find Senior IEEE members knowledgeable in the applicant's area of practice who may be able to provide references. You are invited to attend the informal networking portion of the monthly Section meetings (starting at 11:30am) to meet the Section Board members and discuss intentions.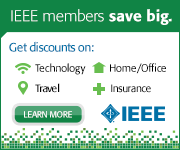 The Institute of Electrical and Electronics Engineers or IEEE (read Eye-Triple-E) is an international non-profit, professional organization dedicated to advancing technology innovation and excellence for the betterment of humanity. IEEE and its members inspire a global community through IEEE's highly cited publications, conferences, technology standards, and professional and educational activities. It has the most members of any technical professional organization in the world, with more than 300,000 members in around 150 countries. The IEEE consists of 38 societies, organized around specialized technical fields, with more than 300 local organizations that hold regular meetings. Discover what IEEE Member Discounts can offer you. The Member Discounts portfolio consists of insurance products and programs for the home, office and travel, all at excellent group rates and reduced pricing. Visit IEEE Member Discounts to see what's available in your location and enjoy the savings. For more information, please visit:
Madison IEEE Section

The IEEE-Madison Section of the IEEE is a section in Region 4 of the IEEE-USA organized to serve IEEE members in the Madison, WI area with over 600 members. The 2016 Officers and Board Members are Tom Kaminski – Chair, Scott Olsen – Vice Chair, Charles Gervasi – Treasurer, Steve Schultheis – Secretary, Nate Toth – Webmaster, Tom Kaminski – ECN Chair, Dennis Bahr – Engineering in Medicine and Biology Chapter Chair,  Chuck Kime – Life Member Affinity Group Chair, Charles Cowie – Life Member Affinity Group Vice Chair, David Jensen – Life Member Affinity Group Secretary, Members at Large: Clark Johnson, Craig Heilman, Dennis Bahr, Sandy Rotter.

Job Openings

Check out WIEES.com for electrical engineering jobs in Madison and the surrounding region. This site is maintained as a service for electrical engineers. Jobs are displayed starting with the most recent postings first. You can filter results by location and job type. If you are hiring an electrical engineer in our area, for full-time or contract work, you can post the job in the Contact Us section on the WIEES.com site.

LearnEMC Short Courses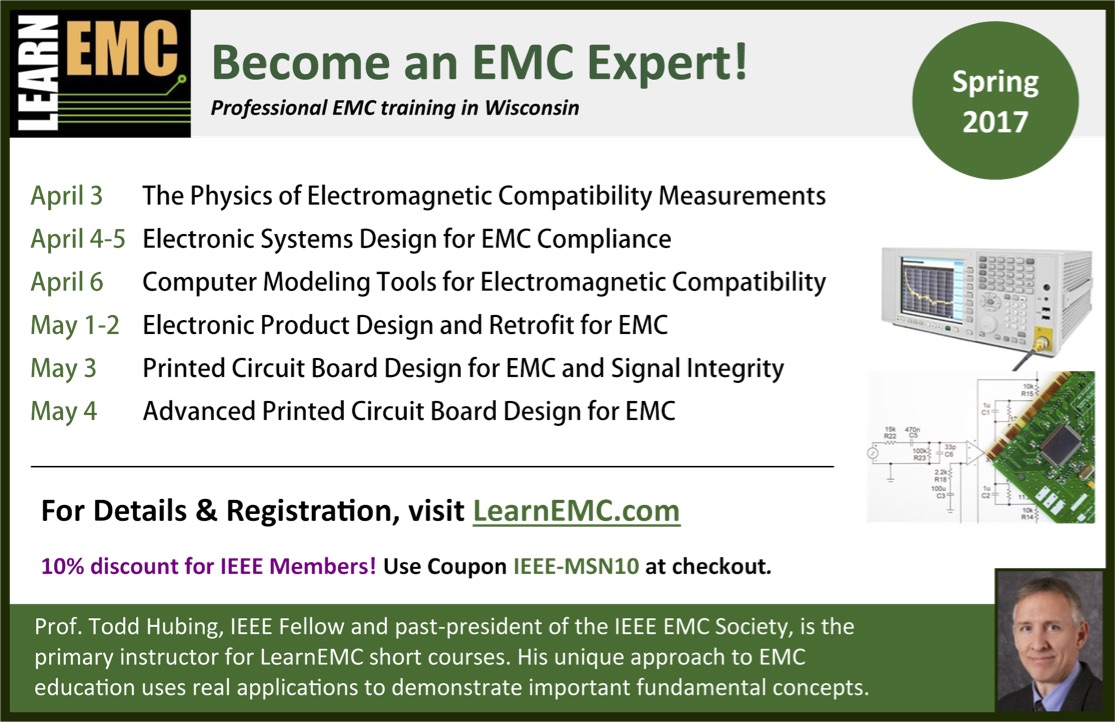 <!–
–>

---