September 2016
September 2016
IEEE-MSN Newsletter
| | |
| --- | --- |
|   | Madison Section Newsletter |
| | | |
| --- | --- | --- |
| Vol. 19, No. 9 | Serving IEEE Members of South Central Wisconsin | September 2016 |
Speaker:  Emeritus Professor Robert Lasseter, UW-CoE, ECE
Thursday, September 8th, 11:30-12:50 PM
Fee: Free (suggested donations for meals)


Location: 
    Sequoya Library
    4340 Tokay Blvd
    Madison, Wisconsin
    United States 53711
    Room Number: Meeting Room B
Details: Pizza, Cookie and Beverage (Suggested Donation: $5 – IEEE Members, Free – IEEE Student Members, $10 – Others) or Bring Your Own Lunch
RSVP: Please Register at the IEEE Madison Section event page.
Non-member guests are always welcome.

Talk: A New Energy Paradigm: Microgrids — The National Academy of Engineering includes the electrical power system as one of the top engineering achievements of the twentieth century. Abundant and available electric power helped spur America's economic development and distributed benefits widely, from cities to farms. This achievement clearly shines as an example of how engineering has changed the world. But today as we look at our energy needs there is a need to rethink the delivery of electricity. We need higher efficiencies, less emissions and better reliability. Progress towards these objectives can be achieved by moving generation sources close to the loads allowing for effective use of waste heat and increased reliability. The resulting complexity of many small sources can be reduced using microgrid concepts. A microgrid is an aggregation of loads and micro-sources operating as a single system providing both power and heat. This control flexibility allows the microgrid to present itself to the bulk power system as a single controlled unit that meets local needs for reliability and security.

Bio: Robert H. Lasseter received the Ph.D. in Physics from the University of Pennsylvania, Philadelphia in 1971. He was a Consulting Engineer at General Electric Co. until he joined the University of Wisconsin-Madison in 1980. His research interests focus on the application of power electronics to utility systems. This work includes microgrids, FACTS controllers and use of power electronics in distribution systems. Professor Lasseter is the technical lead of the CERTS Microgrid Project, a Life Fellow of IEEE, past chair of IEEE Working Group on Distributed Resources and IEEE distinguished lecturer in distributed resources.

Thursday, October 6th, 11:45-1:00 PM

Social/Professional Meeting

Fee: Free


Location: 
    Sector67
    2100 Winnebago Street
    Madison,  WI

Snacks and drinks are available at Sector67
Please Register at the IEEE-Madison  event page

.



Meeting: Topic TBD.  If you have any ideas, contact Tom Kaminski (tjkaminski -at- ieee.org)
Section News

August ECN Meeting:

Tom Kaminski outlined his recent work to provide cellular modem coverage for a non-profit organization driving around the state.  He also discussed possible approaches to get better 4G cellular phone data rates in a home with poor cell coverage.  Several others provided their solutions to the cellular data problem. Follow-up:  Tom's bi-directional amplifier/antennas did not work.  The cellular modem is working well around the state.

August Section Meeting: Steven Nelson gave a comprehensive presentation entitled "Ethics for Electrical Engineers".  He first discussed the relevant law and regulations for the professional engineer (PE) starting with the specific Wisconsin Rules and Regulations.  He specifically discussed the difference between "shall" and "may", the former required, the later optional. Next, the Wisconsin Administrative Code covering the "Professional Rules of Conduct" was reviewed.  He also covered the Code of Ethics for both the IEEE and the National Society of Professional Engineers.  The second hour covered detailed cases that Steven has worked on and what happens when things go wrong.  Steven mentioned that for the most part, engineers he has worked with are ethical and truthful, being trained as problem solvers.  That is less so the case for his profession (Lawyers).  In fact, Steven mentioned that sometimes engineers have to be reminded to be truthful, but to just answer questions posed and not volunteer other information.  Attendees were given 2 PDH hours and the course should meet the requirement for the Wisconsin PE re-certification.

Upcoming Meetings

September Joint Section and LMAG Meeting: Professor Robert Lasseter will give a talk on the emerging microgrid technology.  Despite having retired, Dr. Lasseter is heavily involved in this important new area.  His understanding of the pertinent technical issues will help us to understand this increasingly important technology for distributed power generation.  The meeting is at Sequoya Library.  Note the parking restrictions for on-street parking near the library.

Vote:  IEEE Elections

By now you should have been informed on-line or with a mailed notice about the open IEEE elections.  This year's vote is particularly important because of a proposed change in the bylaws.  The proposed amendment has generated a lot of controversy.  At least four of the IEEE Societies (PES, PELS, RAS, and CS) have sent messages asking members to reject the amendment.  Please review the issues and VOTE.  (Editor's Note:  I voted on-line and almost missed the vote on the amendment.  It is the first entry you vote on, but is "hidden" in the instructions.  Based on the vocal opposition of societies I am a member of and contact with delegates to the past few IEEE conferences, I decided to vote against the amendment.)

You can access the on-line ballot and learn about the candidate's positions by following this voting link. The process also lets you review candidate's statements prior to voting for them. You will need an IEEE login to vote on-line.  You can access your account (or create on if you do not yet have one) by visiting this IEEE account page.

Volunteers Needed

Micro Volunteers: Do you have some time to spare to help IEEE-Madison Section?  Perhaps you have a meeting topic that you would like to see us host and could find a speaker.   Maybe you have time to call a few members who might have forgotten to renew their membership. 

Please consider sending some time helping with the Section activities. Let me know (tjkaminski (at) ieee.org).

Section Meetings

The third Thursday of January through May, and September through December is reserved for a meeting to provide recent research, developments, trends and/or innovations in one of our membership's technical areas.

Life Member Affinity Group

The first Thursday of January, March, May, September and November is reserved for a meeting on a topic selected from a broad range including such areas as technology, science, history, culture and leisure.

IEEE-MSN-ECN Networking Meetings

Purpose: Presentations, Discussions, networking
Date: First Thursday of even-numbered months
Time: 11:45 AM to 1:00 PM
Location: Sector67, 2100 Winnebago Street (East Side of Madison)
Parking: Park in lot or on Winnebago Street.
Process: Members are encouraged to make introductions, describe endeavors, and make request for: contacts in target companies, needs, resources.
Contact: For assistance, call Tim Chapman 2 0 6 – 2 5 7 0

Those interested in upgrading their IEEE membership level should send their resumes or other information showing five years of significant performance in an IEEE-designated field to Charles J Gervasi via email at cj(at)cgervasi.com. Madison Section Board will attempt to find Senior IEEE members knowledgeable in the applicant's area of practice who may be able to provide references. You are invited to attend the informal networking portion of the monthly Section meetings (starting at 11:30am) to meet the Section Board members and discuss intentions.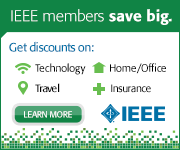 The Institute of Electrical and Electronics Engineers or IEEE (read Eye-Triple-E) is an international non-profit, professional organization dedicated to advancing technology innovation and excellence for the betterment of humanity. IEEE and its members inspire a global community through IEEE's highly cited publications, conferences, technology standards, and professional and educational activities. It has the most members of any technical professional organization in the world, with more than 300,000 members in around 150 countries. The IEEE consists of 38 societies, organized around specialized technical fields, with more than 300 local organizations that hold regular meetings. Discover what IEEE Member Discounts can offer you. The Member Discounts portfolio consists of insurance products and programs for the home, office and travel, all at excellent group rates and reduced pricing. Visit IEEE Member Discounts to see what's available in your location and enjoy the savings. For more information, please visit:
Director of Grainger Engineering Design Innovation Laboratory, University of Wisconsin – Madison
Hardware Engineer, Milwaukee
6-Month RF Contract Project in Minneapolis
<!–
–>

---