October 2016
October 2016
IEEE-MSN Newsletter
| | |
| --- | --- |
|   | Madison Section Newsletter |
| | | |
| --- | --- | --- |
| Vol. 19, No. 10 | Serving IEEE Members of South Central Wisconsin | October 2016 |
Speaker:  UW-Madison Emeritus Professor Barry Orton
Thursday, October 6th, 11:45-1:00 PM

Social/Professional Meeting

Fee: Free


Location: 
    Sector67
    2100 Winnebago Street
    Madison,  WI

Snacks and drinks are available at Sector67
Please Register at the IEEE-Madison  event page.
Non-member guests are always welcome.

Talk: Barry Orton chairs a City of Madison Committee tasked with determining the feasibility of a municipal citywide ultra-high-speed fiber-based broadband network. The City engaged CTC Technology & Energy to provide an analysis of range of options of ownership and operational structure assuming the use of available city telecommunications assets. Their report, now available at: this link recommended a shared investment and risk model in which the City and a private partner(s) find creative ways to share the capital, operating, and maintenance costs of a broadband network. The evolving structure of this model is referred to as a "Dark FTTP Partnership."

Orton will discuss this project in light of the requirements of Wis. Stat. § 66.0422(2)(c), and recent FCC and court decisions regarding "Net Neutrality" and municipal broadband.

Bio: Barry M. Orton is an Emeritus Professor from the UW-Madison Liberal Arts and Applied Studies Department. For over 25 years his primary duty at the UW-Madison has been to assist Wisconsin municipalities with broadband issues. He is a veteran consultant to cable television franchising authorities, specializing in telecommunications planning and public opinion research in addition to broadband policy and regulation. Barry has been involved in franchise negotiations, renewals, rate and customer service regulations, and transfers of ownership procedures. Orton has served local government clients in Arizona, California, Florida, Illinois, Iowa, Maryland, Michigan, Missouri, Tennessee, Utah, Vermont, and Wisconsin.

Barry Orton was an original founder of the National Association of Telecommunications Officers and Advisors (NATOA), the professional organization of local telecommunications regulators, and for many years was president of NATOA's Wisconsin chapter. In 2005, NATOA elected Orton a Life Member in recognition of his contributions to the organization. In addition, Professor Orton has been active in teaching professionals how to utilize the Internet.

Dr Orton's PhD and Masters are from Rutgers in Urban and Regional Planning, and he also has a BS in Business and Economics from Lehigh University. Before joining the UW faculty in 1980, he was on the Rutgers faculty in Journalism and Mass Communications.

TENTATIVE

Tour:  Late afternoon tour of the WEI

PROPOSED:

Thursday, November 10th, 4:30 – 5:45 PM

Professional Meeting sponsored by the Life Member Affinity Group

Fee: Free


Location: 
    1552 University Avenue,
    Madison, WI 53726
   
RSVP: Please Register at the IEEE Madison Section event page.
Non-member guests are always welcome.

About: Wisconsin Energy Institute — The Wisconsin Energy Institute (WEI) supports the energy-related research of more than 100 faculty and scientists on the University of Wisconsin – Madison campus. As a nationally-recognized, interdisciplinary research institute, they:

•    Discover and deploy innovative energy technologies and public policy solutions
•    Provide a public forum in which to learn about and discuss energy challenges
•    Engage industry in high-impact research collaborations

Their vision is to increase Wisconsin's national leadership in identifying strategies for clean, efficient, and cost-effective energy; to advance economic growth for the state and the nation; and to continue UW-Madison's legacy of solving large-scale societal challenges. The Wisconsin Energy Institute building is a centerpiece of future renewable energy systems research at the University of Wisconsin–Madison. The Institute houses cutting-edge research in advanced fuels, renewable energy and energy storage systems. The laboratories, imaging and computational spaces inside the WEI allow scientists, engineers and mathematicians to collaboratively develop future energy systems. The flexible design includes laboratories that easily adapt to changes in research teams or disciplines giving scientists the capability to adjust labs for their work. The building contains university's first high-bay laboratory for the creation of large-scale integrated energy systems. The WEI is an energy-efficient research facility that reflects the clean energy advances being developed on campus. The Wisconsin Energy Institute building has been nominated for and won a number of awards.

Tour: We have requested a tour that includes: Energy and architectural features of the building, Electrical and mechanical systems, Laboratory features, Human interface features, Research activities and resources, Educational activities and resources, Community outreach programs, WEI financial support.  The date is tentative.  Please look for a message entitled "Engage industry in high-impact research collaborations" soon detailing the final event details.
Section News

Section/LMAG Meeting:

Professor Lasseter gave an excellent and well attended talk on the importance of Microgrids in the future of the electrical generation and transmission infrastructure.  His talk was recorded and can be viewed

here

.   Note that the you should skip the first five minutes of the recorded talk — it was not properly trimmed.

Upcoming Meetings

  October Entrepreneurs and Consultants Meeting: Professor Barry Orton will be discussing the City of Madison's study for the proposed City Fiber Broadband Network.  Dr. Orton chaired the committee for the City of Madison investigating options for the City network.  Now that a report has been published, attend and ask Dr. Orton your questions.  He has been a frequent contributor the news outlets covering the topic of communications infrastructure.  Bring a lunch to eat. 

November LMAG Meeting:  A tentative tour of the Wisconsin Energy Institute is planned, but the final schedule is not firmed up.  Stay tuned for an announcement of the final schedule.

Vote:  IEEE Elections

Voting closes on October 4th.  This year's vote is particularly important because of a proposed change in the bylaws.  The proposed amendment has generated a lot of controversy.  At least four of the IEEE Societies (PES, PELS, RAS, and CS) have sent messages asking members to reject the amendment.  Please review the issues and VOTE.  Editor's Note:  I voted on-line and almost missed the vote on the amendment.  It is the first entry you vote on, but is "hidden" in the instructions. 

You can access the on-line ballot and learn about the candidate's positions by following this voting link. The process also lets you review candidate's statements prior to voting for them. You will need an IEEE login to vote on-line.  You can access your account (or create on if you do not yet have one) by visiting this IEEE account page.

Volunteers Needed

Micro Volunteers: Do you have some time to spare to help IEEE-Madison Section?  Perhaps you have a meeting topic that you would like to see us host and could find a speaker.   Maybe you have time to call a few members who might have forgotten to renew their membership. 

Please consider sending some time helping with the Section activities. Let me know (tjkaminski (at) ieee.org).

Section Meetings

The third Thursday of January through May, and September through December is reserved for a meeting to provide recent research, developments, trends and/or innovations in one of our membership's technical areas.

Life Member Affinity Group

The first Thursday of January, March, May, September and November is reserved for a meeting on a topic selected from a broad range including such areas as technology, science, history, culture and leisure.

IEEE-MSN-ECN Networking Meetings

Purpose: Presentations, Discussions, networking
Date: First Thursday of even-numbered months
Time: 11:45 AM to 1:00 PM
Location: Sector67, 2100 Winnebago Street (East Side of Madison)
Parking: Park in lot or on Winnebago Street.
Process: Members are encouraged to make introductions, describe endeavors, and make request for: contacts in target companies, needs, resources.
Contact: For assistance, call Tim Chapman 2 0 6 – 2 5 7 0

Those interested in upgrading their IEEE membership level should send their resumes or other information showing five years of significant performance in an IEEE-designated field to Charles J Gervasi via email at cj(at)cgervasi.com. Madison Section Board will attempt to find Senior IEEE members knowledgeable in the applicant's area of practice who may be able to provide references. You are invited to attend the informal networking portion of the monthly Section meetings (starting at 11:30am) to meet the Section Board members and discuss intentions.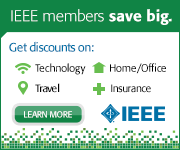 The Institute of Electrical and Electronics Engineers or IEEE (read Eye-Triple-E) is an international non-profit, professional organization dedicated to advancing technology innovation and excellence for the betterment of humanity. IEEE and its members inspire a global community through IEEE's highly cited publications, conferences, technology standards, and professional and educational activities. It has the most members of any technical professional organization in the world, with more than 300,000 members in around 150 countries. The IEEE consists of 38 societies, organized around specialized technical fields, with more than 300 local organizations that hold regular meetings. Discover what IEEE Member Discounts can offer you. The Member Discounts portfolio consists of insurance products and programs for the home, office and travel, all at excellent group rates and reduced pricing. Visit IEEE Member Discounts to see what's available in your location and enjoy the savings. For more information, please visit:
Madison IEEE Section

The IEEE-Madison Section of the IEEE is a section in Region 4 of the IEEE-USA organized to serve IEEE members in the Madison, WI area with over 600 members. The 2016 Officers and Board Members are Charles Gervasi – Chair, Matthew Bartlett – Vice Chair, Tom Kaminski – Treasurer, Steve Schultheis – Secretary, Timothy Chapman – Webmaster, Tom Kaminski – ECN Chair, Dennis Bahr – Engineering in Medicine and Biology Chapter Chair, Ann E. Thompson – Educational Activities Chair, Charles Cowie – Life Member Affinity Group Chair, Chuck Kime – Life Member Affinity Group Vice Chair, Scott Olsen – Membership Development Chair, Members at Large: Mitch Bradt, Clark Johnson, Craig Heilman, Dennis Bahr, Sandy Rotter.

Job Openings

Check out WIEES.com for electrical engineering jobs in Madison and the surrounding region. This site is maintained as a service for electrical engineers. Jobs are displayed starting with the most recent postings first. You can filter results by location and job type. If you are hiring an electrical engineer in our area, for full-time or contract work, you can post the job in the Contact Us section on the WIEES.com site. Here is a sampling of the new job listings:


Electronics Engineer, Four Lakes Technology – Madison
Optical Design Engineer, Electronic Theater Controls, Middleton
Madison Science Museum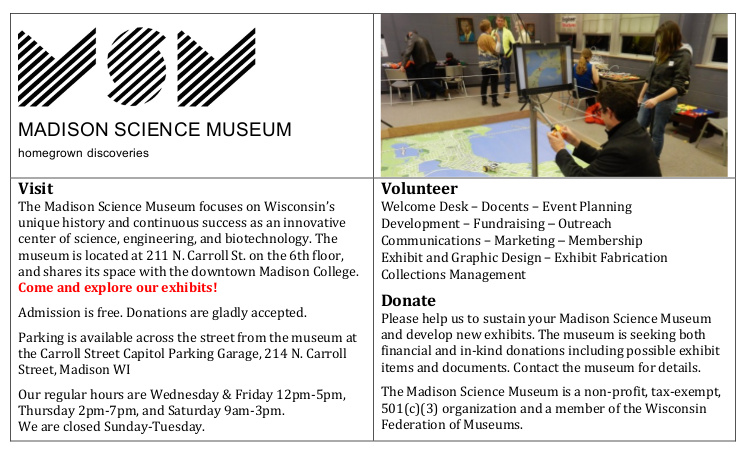 <!–
–>

---