November 2016
November 2016
IEEE-MSN Newsletter
| | |
| --- | --- |
|   | Madison Section Newsletter |
| | | |
| --- | --- | --- |
| Vol. 19, No. 11 | Serving IEEE Members of South Central Wisconsin | December 2016 |
Upcoming Events

Topic:  Your Activities
Thursday, October 6th, 11:45-1:00 PM

Social/Professional Meeting

Fee: Free


Location: 
    Sector67
    2100 Winnebago Street
    Madison,  WI

Pizza and Drinks (Free)
Please Register at the IEEE-Madison  event page.
Non-member guests are always welcome.

Talk: Be prepared to give give a brief introduction to what you do ("Elevator Speech").  This is your opportunity to discuss your company, or your consulting expertise.

Speaker:  Dr. Justin Williams, Chair Biomedical Engineering Department
Topic: The Neural Interface Technology Research and Optimization (NITRO) Laboratory

Date/Time:

In December — TBD (Check the Evnet Page)

Professional Meeting Joint IEEE-Madison Section and
Madison EMB18 Engineers in Biology and Medicine Chapter

Fee: TBD (Check Event Page)


Location: 
    TBD at:
       UW-Madison College of Engineering
   
RSVP: Please Register at the IEEE Madison Section event page.
Non-member guests are always welcome.

About: The Neural Interface Technology Research and Optimization (NITRO) Laboratory is part of the Department of Biomedical Engineering at the University of Wisconsin-Madison. The goals of our lab are to 1) develop new devices for recording from and stimulating neural tissue, 2) design these devices to be both durable for long-term implantation and safe for use in humans and animals, and 3) use these technologies in a variety of situations, from use in a basic physiology lab recording from single neurons, to clinical settings where people with motor disabilities might benefit from a brain-computer interface or other neural prosthetic communication device.

Section News

Review of October  ECN Meeting


Barry Orton

gave a short history of the telecommunications industry and what has transpired as cable operators and broadband networks were acquired and spun off.  He then outlined the goals and objectives of the City of Madison proposed FTTP network building in part, on the existing fiber backbone that the city installed with money from the Economic Recovery Act.  Barry summarized the CTC study for the group and outlined the next steps that he expects to be completed soon.  He has also prepared an Executive Summary of the CTC report that is available

here

.

Upcoming/Canceled Meetings

November LMAG Meeting:  A tentative tour of the Wisconsin Energy Institute was cancelled due to scheduling conflicts.  The November Section Meeting was to be joint with LMAG.  It will be rescheduled in 2017.

Vote:  Madison Section Elections

Madison Section Officer Nominations and Elections are nearly at hand. You will be receiving an e-mail ballot in December for Section Officer Elections. If you are interested in more information or in running for office, please contact the Vice Chair, Matt Bartlett (email: matthew.m.bartlett (at) ieee.org).

Volunteers Needed

Micro Volunteers: Do you have some time to spare to help IEEE-Madison Section?  Perhaps you have a meeting topic that you would like to see us host and could find a speaker.   Maybe you have time to call a few members who might have forgotten to renew their membership. 

Regular Meetings

Section Meetings

The third Thursday of January through May, and September through December is reserved for a meeting to provide recent research, developments, trends and/or innovations in one of our membership's technical areas.

Life Member Affinity Group

The first Thursday of January, March, May, September and November is reserved for a meeting on a topic selected from a broad range including such areas as technology, science, history, culture and leisure.

IEEE-MSN-ECN Networking Meetings

Purpose: Presentations, Discussions, networking
Date: First Thursday of even-numbered months
Time: 11:45 AM to 1:00 PM
Location: Sector67, 2100 Winnebago Street (East Side of Madison)
Parking: Park in lot or on Winnebago Street.
Process: Members are encouraged to make introductions, describe endeavors, and make request for: contacts in target companies, needs, resources.
Contact: For assistance, call Tim Chapman 2 0 6 – 2 5 7 0

Membership Upgrades

Those interested in upgrading their IEEE membership level should send their resumes or other information showing five years of significant performance in an IEEE-designated field to Charles J Gervasi via email at cj(at)cgervasi.com. Madison Section Board will attempt to find Senior IEEE members knowledgeable in the applicant's area of practice who may be able to provide references. You are invited to attend the informal networking portion of the monthly Section meetings (starting at 11:30am) to meet the Section Board members and discuss intentions.

About IEEE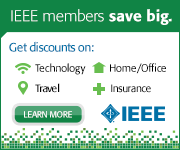 The Institute of Electrical and Electronics Engineers or IEEE (read Eye-Triple-E) is an international non-profit, professional organization dedicated to advancing technology innovation and excellence for the betterment of humanity. IEEE and its members inspire a global community through IEEE's highly cited publications, conferences, technology standards, and professional and educational activities. It has the most members of any technical professional organization in the world, with more than 300,000 members in around 150 countries. The IEEE consists of 38 societies, organized around specialized technical fields, with more than 300 local organizations that hold regular meetings. Discover what IEEE Member Discounts can offer you. The Member Discounts portfolio consists of insurance products and programs for the home, office and travel, all at excellent group rates and reduced pricing. Visit IEEE Member Discounts to see what's available in your location and enjoy the savings. For more information, please visit:
Madison IEEE Section

The IEEE-Madison Section of the IEEE is a section in Region 4 of the IEEE-USA organized to serve IEEE members in the Madison, WI area with over 600 members. The 2016 Officers and Board Members are Charles Gervasi – Chair, Matthew Bartlett – Vice Chair, Tom Kaminski – Treasurer, Steve Schultheis – Secretary, Timothy Chapman – Webmaster, Tom Kaminski – ECN Chair, Dennis Bahr – Engineering in Medicine and Biology Chapter Chair, Ann E. Thompson – Educational Activities Chair, Charles Cowie – Life Member Affinity Group Chair, Chuck Kime – Life Member Affinity Group Vice Chair, Scott Olsen – Membership Development Chair, Members at Large: Mitch Bradt, Clark Johnson, Craig Heilman, Dennis Bahr, Sandy Rotter.

Job Openings

Check out WIEES.com for electrical engineering jobs in Madison and the surrounding region. This site is maintained as a service for electrical engineers. Jobs are displayed starting with the most recent postings first. You can filter results by location and job type. If you are hiring an electrical engineer in our area, for full-time or contract work, you can post the job in the Contact Us section on the WIEES.com site. Here is a sampling of the new job listings:


Electronics Engineer, Four Lakes Technology – Madison
Optical Design Engineer, Electronic Theater Controls, Middleton
Madison Science Museum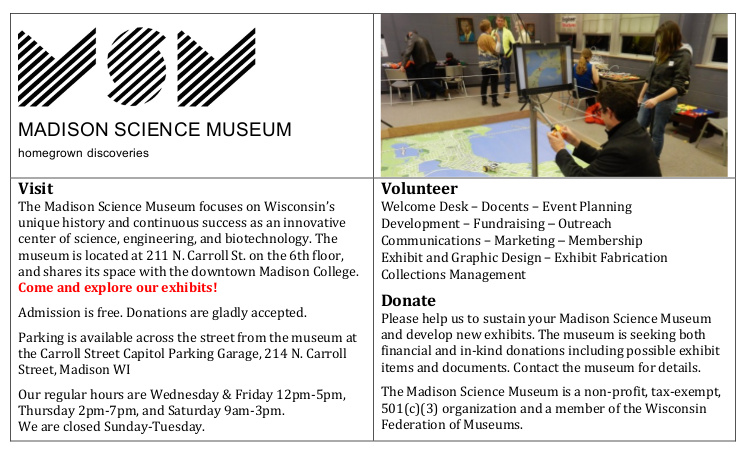 Contact Us

The IEEE-Madison Section has a number of volunteer positions open if you are interested in helping out. Please direct any questions or comments to Tom Kaminski (Newsletter Editor) via email to tjkaminski(at)ieee.org.
<!–
–>

---