May 2016
May 2016
IEEE-MSN Newsletter
| | |
| --- | --- |
|   | Madison Section Newsletter |
| | | |
| --- | --- | --- |
| Vol. 19, No. 5 | Serving IEEE Members of South Central Wisconsin | May 2016 |
Thursday, May 19th, 11:45-1:00 PM

Talk on the Museum and Tourn

Fee: Free


Location: 
    MATC Downtown Campus
    6th Floor
    211 N. Carroll St.
    Madison,  WI

Food will be served available
   Members $5, Non-Members $10, Students Free
Please Register at the IEEE-Madison  event page

.

Presentation: Museum personnel will briefly review the history and vision for the Madison Science Museum. They will present an overview of the current exhibits and describe planned exhibits and current exhibit development projects. We will discuss ideas for IEEE collaboration and support.

Tour: During the tour of the Museum, museum personnel will be available to answer questions and talk about the exhibits.
Section News

Review of April Events

April ECN Meeting : "Cloud Server Discussion" Tom Kaminski and Tim Chapman gave a short presentation about setting up a Cloud Server.  Tom discussed what the term "Cloud Server" means and talked hosing services that you can use. He then walked through creating a Cloud Server, step-by-step, a process that took less than 5 minutes.  Next he discussed some of the tools needed to access the server and control security.  Two detailed cloud servers were demonstrated, including an interactive book used to teach Electronics to Industrial Maintenance students at MATC, and a Redmine project management system used to document and track student projects for a class.  Tim then discussed a "Machine-to-Machine" protocol used to connect small "System-on-a-Chip" (SoC) boards running Linux to a CentOS Linux cloud server. The server displayed interactive maps and updated real-time data acquired by the SoCs for display on the Cloud Server. Both the RaspberryPi and Hardkernal XU4 SoC's were integrated using Meteor and Node.js Javascript.  For more information, contact Tom Kaminski via e-mail at tjkaminski-at-ieee.org.

April Section Meeting: "ARMS Adult Role Models in Science"

At our monthly meeting on Apr 21, 2016, Dolly Ledin spoke to our section about a class she teaches that involves UW students going to local grade schools and teaching science once a week.  The class is part of the Adult Role Models in Science (ARMS) program, which is about introducing school children to science and engineering.  Spending time with a mentor children can look up to is helpful even to students who go into fields not directly related to science. 

According to Ledin, the evidence is clear that inquiry-based science learning helps students gain critical thinking skills and self-confidence around learning. It improves grades across the board. But to really reap the benefits of science learning so it can impact their trajectory in school and in life, kids need science in elementary school. Unfortunately, most kids aren't getting enough, and the science they do get is often based on facts rather than transferable thinking skills and taught by adults who are uncomfortable with their own science learning. ARMS is about building relationships and teaching kids life skills.

For the first there is a "Next Generation" nationwide science curriculum.  Madison is beginning to implement it.  The programs calls for elementary school students to spend 50% of the science instruction time on engineering topics.  The ARMS program can help teachers execute this. Ms. Ledin said if you ask kids their favorite subject they often say science and engineering because kids naturally like doing experiments.  Engineering instruction exposes kids the concept of learning from failure.  They get to do something that does not work out perfectly and then improve it or fix it another day.   

The ARMS program has a website here for more information.  Ledin's talk was recorded as a Camtasia Screencast available for replay here.




Upcoming Meetings

May Section Meeting: This meeting was arranged by Chuck Cowie, current Chair of the Life Member Affinity Group.  The Madison Science Museum has made great progress since we first were informed of the program.  Please attend!

Volunteers Needed

Micro Volunteers: Do you have some time to spare to help IEEE-Madison Section?  Perhaps you have a meeting topic that you would like to see us host and could find a speaker.   Maybe you have time to call a few members who might have forgotten to renew their membership. 

Please consider sending some time helping with the Section activities.  Let me know (tjkaminski (at) ieee.org).

Section Meetings

The third Thursday of January through May, and September through December is reserved for a meeting to provide recent research, developments, trends and/or innovations in one of our membership's technical areas.

Life Member Affinity Group

The first Thursday of January, March, May, September and November is reserved for a meeting on a topic selected from a broad range including such areas as technology, science, history, culture and leisure.

IEEE-MSN-ECN Networking Meetings

Purpose: Presentations, Discussions, networking
Date: First Thursday of even-numbered months
Time: 11:45 AM to 1:00 PM
Location: Sector67, 2100 Winnebago Street (East Side of Madison)
Parking: Park in lot or on Winnebago Street.
Process: Members are encouraged to make introductions, describe endeavors, and make request for: contacts in target companies, needs, resources.
Contact: For assistance, call Tim Chapman 2 0 6 – 2 5 7 0

Those interested in upgrading their IEEE membership level should send their resumes or other information showing five years of significant performance in an IEEE-designated field to Charles J Gervasi via email at cj(at)cgervasi.com. Madison Section Board will attempt to find Senior IEEE members knowledgeable in the applicant's area of practice who may be able to provide references. You are invited to attend the informal networking portion of the monthly Section meetings (starting at 11:30am) to meet the Section Board members and discuss intentions.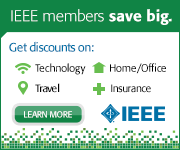 The Institute of Electrical and Electronics Engineers or IEEE (read Eye-Triple-E) is an international non-profit, professional organization dedicated to advancing technology innovation and excellence for the betterment of humanity. IEEE and its members inspire a global community through IEEE's highly cited publications, conferences, technology standards, and professional and educational activities. It has the most members of any technical professional organization in the world, with more than 300,000 members in around 150 countries. The IEEE consists of 38 societies, organized around specialized technical fields, with more than 300 local organizations that hold regular meetings. Discover what IEEE Member Discounts can offer you. The Member Discounts portfolio consists of insurance products and programs for the home, office and travel, all at excellent group rates and reduced pricing. Visit IEEE Member Discounts to see what's available in your location and enjoy the savings. For more information, please visit:
Electrical Design Engineering Manager, Chicago
Electronics Design Engineer, Sheboygan
<!–
–>

---