August 2016
August 2016
IEEE-MSN Newsletter
| | |
| --- | --- |
|   | Madison Section Newsletter |
| | | |
| --- | --- | --- |
| Vol. 19, No. 8 | Serving IEEE Members of South Central Wisconsin | August 2016 |
Thursday, August 4th, 11:45-1:00 PM

Social/Professional Meeting

Fee: Free


Location: 
    Sector67
    2100 Winnebago Street
    Madison,  WI

Snacks and drinks are available at Sector67
Please Register at the IEEE-Madison  event page.

Meeting: This meeting will give you a chance to meet other ECN members socially and professionally.  Be prepared to tell everyone what you do and are interested in. Possible Topic:  Cellular Communications Projects.


August IEEE Meeting "Engineers and Ethics"

Thursday, August 4th, 5:00-7:00 PM

Speaker: Steve Nelson, Von Briesen & Roper in Milwaukee, WI

Fee: IEEE Member $15, Non-Members $25, Student Members Free.


Location: 
    Pyle Center, Room 227
    702 Langdon St
    Madison, Wisconsin
    United States 53706-1420

Beverages and Appetizers are included in the Registration Fee
Please Register at the IEEE-Madison  event page.
Two Hours PDH credit toward PE certification in the Ethics Category
if you stay for the talk and discussion will be given to those who attend.
For PDH credit, be sure to include e-mail, IEEE #, and contact address on registration.


Meeting Talk: "Engineers and Ethics: An Overview of Ethical Standards that Apply to Design Professionals" The talk will start with a review the ethical standards that apply to design professional and discuss their key points. It will then move on to examples of real life cases to help the attendees get a flavor of the many ethical issues that arise in the judicial system. Bring your attention and questions for an evening of learning.  The talk will be followed by a discussion session on Ethics.  For PDH 2-hour credit, be sure to stay for the second hour.

Speaker: Steve Nelson is a Shareholder in the Litigation and Risk Management Practice Group at Von Briesen & Roper in Milwaukee, WI. Steve has extensive experience in litigation and concentrates his practice in commercial litigation including construction, professional liability defense , civil and business disputes, contracts and lease disputes, toxic tort, OSHA counseling and citation defense, personal injury defense, product liability, and Wisconsin fair dealership law. He has litigated on behalf of clients involved in complex construction matters including tunnel and sewer construction, building construction, highway construction and matters involving professional negligence.

Section News

April ECN Meeting:

Tom Kaminski and Tim Chapman presented the talk in the Cloud Servers. The talk was reviewed in the May IEEE-Madison Newsletter available

here

. Due to recent change in availability, the Camtasia Relay recorded version of the talk is now available at this 

link.

Upcoming Meetings

August Section Meeting: Steve Nelson will give a talk suitable for the PE certification in the Ethics category. The meeting is being held at the Pyle Center on Campus and is also slated for an evening time. Come at 5:00 to socialize and have appetizers. The talk begins at 5:30.  Be sure to register with you correct contact information if you want PDH credit. In addition, if you want the full two hours of credit offered through the IEEE PDH registration service, be prepared to discuss ethics in the second hour.  This should allow PEs to meet the State of Wisconsin Ethics requirement renewal. 

August ECN Meeting: Attend to meet other entrepreneurs and consultants in the IEEE and related organizations. The meeting is an opportunity for you to discuss your entrepreneurial ideas and to market your consultant skills. Come and hear what others are doing.  Are you utilizing cellular communication for projects?  If so, let's discuss it.  Tom Kaminski will briefly discuss his recent cellular equipment issues.

Volunteers Needed

Micro Volunteers: Do you have some time to spare to help IEEE-Madison Section?  Perhaps you have a meeting topic that you would like to see us host and could find a speaker.   Maybe you have time to call a few members who might have forgotten to renew their membership. 

Please consider sending some time helping with the Section activities. Let me know (tjkaminski (at) ieee.org).

Section Meetings

The third Thursday of January through May, and September through December is reserved for a meeting to provide recent research, developments, trends and/or innovations in one of our membership's technical areas.

Life Member Affinity Group

The first Thursday of January, March, May, September and November is reserved for a meeting on a topic selected from a broad range including such areas as technology, science, history, culture and leisure.

IEEE-MSN-ECN Networking Meetings

Purpose: Presentations, Discussions, networking
Date: First Thursday of even-numbered months
Time: 11:45 AM to 1:00 PM
Location: Sector67, 2100 Winnebago Street (East Side of Madison)
Parking: Park in lot or on Winnebago Street.
Process: Members are encouraged to make introductions, describe endeavors, and make request for: contacts in target companies, needs, resources.
Contact: For assistance, call Tim Chapman 2 0 6 – 2 5 7 0

Those interested in upgrading their IEEE membership level should send their resumes or other information showing five years of significant performance in an IEEE-designated field to Charles J Gervasi via email at cj(at)cgervasi.com. Madison Section Board will attempt to find Senior IEEE members knowledgeable in the applicant's area of practice who may be able to provide references. You are invited to attend the informal networking portion of the monthly Section meetings (starting at 11:30am) to meet the Section Board members and discuss intentions.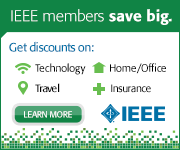 The Institute of Electrical and Electronics Engineers or IEEE (read Eye-Triple-E) is an international non-profit, professional organization dedicated to advancing technology innovation and excellence for the betterment of humanity. IEEE and its members inspire a global community through IEEE's highly cited publications, conferences, technology standards, and professional and educational activities. It has the most members of any technical professional organization in the world, with more than 300,000 members in around 150 countries. The IEEE consists of 38 societies, organized around specialized technical fields, with more than 300 local organizations that hold regular meetings. Discover what IEEE Member Discounts can offer you. The Member Discounts portfolio consists of insurance products and programs for the home, office and travel, all at excellent group rates and reduced pricing. Visit IEEE Member Discounts to see what's available in your location and enjoy the savings. For more information, please visit:
Madison IEEE Section

The IEEE-Madison Section of the IEEE is a section in Region 4 of the IEEE-USA organized to serve IEEE members in the Madison, WI area with over 600 members. The 2016 Officers and Board Members are Charles Gervasi – Chair, Matthew Bartlett – Vice Chair, Tom Kaminski – Treasurer, Steve Schultheis – Secretary, Timothy Chapman – Webmaster, Tom Kaminski – ECN Chair, Dennis Bahr – Engineering in Medicine and Biology Chapter Chair, Ann E. Thompson – Educational Activities Chair, Charles Cowie – Life Member Affinity Group Chair, Chuck Kime – Life Member Affinity Group Vice Chair, Scott Olsen – Membership Development Chair, Members at Large: Mitch Bradt, Clark Johnson, Craig Heilman, Dennis Bahr, Sandy Rotter.

Job Openings

Check out WIEES.com for electrical engineering jobs in Madison and the surrounding region. This site is maintained as a service for electrical engineers. Jobs are displayed starting with the most recent postings first. You can filter results by location and job type. If you are hiring an electrical engineer in our area, for full-time or contract work, you can post the job in the Contact Us section on the WIEES.com site. Here is a sampling of the new job listings:


Senior Electrical Engineer, Madison
Embedded Software Engineer at X-ES in Middleton
6-Month RF Contract Project in Minneapolis
<!–
–>

---