April 2016
April 2016
IEEE-MSN Newsletter
| | |
| --- | --- |
|   | Madison Section Newsletter |
| | | |
| --- | --- | --- |
| Vol. 19, No. 4 | Serving IEEE Members of South Central Wisconsin | April 2016 |
Thursday, April 7th, 11:45-1:00 PM

Talk on Cloud Servers and Demonstration

Fee: Free

Location: 
    Sector67
    2100 Winnebago Street
    Madison,  WI
Drinks and Snacks are available for purchase.
Bring your own Brown Bag lunch!
Please Register at the IEEE-Madison  event page

.

Talk/Demo: Tom Kaminski and Tim Chapman will give a short talk and demonstration on setting up your own Cloud Server.  One server, hosting an interactive book with Redmine project management was used for teaching.  The second server, an M2M server for data collection and display shows details of the "Internet of Things" approach to connecting small SoC to user laptops through cloud servers.

Discussion: After the short talk, the ECN group will open the floor for discussions of participant's experience with cloud servers.  Bring your questions, suggestions, experiences to share.

Date: April 12, 2016, 11:4 AM – 1:15 PM
Lecturer: Dolly Ledin, Outreach Coordinator for UW-WISCINECE
Location:
   Madison Sequoya Library Branch
   Large Room on the Right
   4340 Tokay Blvd
   Madison, Wisconsin
   United States 53711
Details: Lecture and Pizza, Cookies and Beverage
Suggested Donation: $5 IEEE Members, Free for IEEE Student Members, $10 Others
Please Register at the IEEE Madison Section event page
Talk:
The Adult Role Models in Science (ARMS) program is founded on the basic idea that the best way to transform science education for children is to help adults—from teachers to undergraduates to researchers to parents—become and see themselves as competent scientific role models. Each trained role model can mentor many children, and that's how ARMS is able to reach hundreds of kids each year. She will be joined by Shaheen Sutterwala who is Outreach Specialist at Center for Biology Education at the UW Madison.
Bio:
Dolly Ledin works to engage scientists in collaborating with educators to engage youth in the process of science. She has worked as outreach coordinator for the University of Wisconsin WISCIENCE for the past 25 years.  She has worked as an elementary and middle school teacher, an environmental educator with the Wis. Dept. of Natural Resources and an adjunct faculty with Univ. of Wisconsin Stevens Point. Most of Dolly's work has focused on the Madison community, building long-term partnerships between the university, local K-12 schools and organizations that serve youth.  She has also led environmental science courses for teachers in Puerto Rico, led university students on a study-abroad course in rural Ecuador and spent a year as the environmental education coordinator at the Cloud Forest School in Monteverde, Costa Rica.  She has an MS in Land Resources from UW Madison Institute for Environmental Studies (now the Nelson Inst.)   She received the Sister Joel Read Civic Leadership Award from the Wisconsin Campus Compact in 2015.
Section News

Review of March Events

March LMAG Meeting/tour: "Charter Street Heating Plant" (Review by Charles Cowie and Chuck Kime)  The tour of the Charter Street plant was conducted by Campus Utilities Engineer Jeffrey A. Pollei, P.E. Jeff summarized the history of UW heating and cooling plants and described the factors influencing the planning and design of the new Charter Street plant. The tour included the control room and control systems, the new 225,000 LB/HR natural gas boilers, the natural gas meter pit, the new utility tunnel and steam exit locations, the water treatment plant, the steam turbine generator, the campus cooling chillers and pumping systems, and the backup fuel oil tank. Jeff described the auxiliary equipment and technical features of each major piece of equipment included in the tour. You can read about the history of the Charter Street Heating and Cooling Plant here. Boldt, the construction contractor also has information on the plant here. More images by Chuck Cowie are available here.


March Section Meeting: "Magnetics + Mechanics + Nanoscale  = Electromagnetic Future"

Our Mar 17 talk featured a talk by Dr. Greg Carman.  Instead of talking about the planned topic of CDs, Dr. Carman talked to us about his researching into future data storage technology. Dr. Carman recommended the book Innovators by Walter Isaacson.  The book is about how a collection of small innovations made computers possible.  He believes that his research into converting electricity into magnetism at a small scale may be part of similarly revolutionary technologies of the future. There is certainly room to improve data storage efficiency.  An internal combustion engine is about 20% efficient, and most people agree we need more efficient alternatives.  MRAM storage is 0.0003%.  Clearly this is an area with great opportunity for improvement. 

It has been known for centuries that current through a wire creates a magnetic field (See Fig. 1).  The trouble is if we do this on a small scale, we need a tiny wire, and wire resistance becomes a problem.  We need a different mechanism to do this.  One way is Dr. Carman's area of research, strain mediated multiferroics – research that uses materials whose magnetic field changes with mechanical strain (See Fig. 2).

We want a material whose magnetic field changes with electricity. The Curie brothers discovered piezoelectric material in 1880.  In 1894 they searched unsuccessfully for a magnetic "magnetoelectric" analog to this effect. In 2002, Dr Ryu demonstrated it's possible to laminate magnetoelastic materials to piezoelectric materials so an electric field can modulate the direction of a magnetic field.  In the late 2000s, researchers at Berkely started doing research on single-domain nanostructures.  (See Fig. 3)

Dr. Carmen's research uses a film of nickel 30-100nm thick. (See Fig. 4) The research could radically increase storage efficiency.  Good modeling is needed because it's impractical to work out the best geometries by trial-and-error.  Testing concepts on such a small scale is challenging.  There may be future applications beyond storage, such turning a string of molecules using changing magnetic fields to push liquid on a very small scale.  (See Fig. 5)

NOTE:  The talk was recorded and Dr. Carman's Presentation may be viewed

                      

Figures from Dr. Carmen's Talk on Multiferroics

Upcoming Meetings

April ECN Meeting: This meeting builds on the information presented by Dominic DiMarco about "IoT" technology.  The meeting will demonstrate how easy it is to create a cloud server for several applications.  Please come and bring your own "Tales for the Cloud".

April Section Meeting: This meeting will be Co-Sponsored by the Life Member Affinity Group and the Engineers in Medicine and Biology Chapter.  Dolly Ledin has spent many years helping to educate children. Her current role as Outreach Coordinator for the ARMS program at UW-Madison.  The Adult Role Models in Science (ARMS) program is founded on the basic idea that the best way to transform science education for children is to help adults. What's a scientific role model? It isn't just someone who can present scientific information to children in an interesting way. It's someone who's there with them over time to cultivate their curiosity and excitement about science, help them think like scientists, and nurture both their desire to learn more and their belief that they can. It's also someone who's a role model to other adults, taking leadership in science education and outreach. Can IEEE members participate as role models? , Many of the LMAG are retired educators and several already participate in children's education. Join them!

Volunteers Needed

Micro Volunteers: Do you have some time to spare to help IEEE-Madison Section?  Perhaps you have a meeting topic that you would like to see us host and could find a speaker.   Maybe you have time to call a few members who might have forgotten to renew their membership. 

Please consider sending some time helping with the Section activities.  Let me know (tjkaminski (at) ieee.org).

Section Meetings

The third Thursday of January through May, and September through December is reserved for a meeting to provide recent research, developments, trends and/or innovations in one of our membership's technical areas.

Life Member Affinity Group

The first Thursday of January, March, May, September and November is reserved for a meeting on a topic selected from a broad range including such areas as technology, science, history, culture and leisure.

IEEE-MSN-ECN Networking Meetings

Purpose: Presentations, Discussions, networking
Date: First Thursday of even-numbered months
Time: 11:45 AM to 1:00 PM
Location: Sector67, 2100 Winnebago Street (East Side of Madison)
Parking: Park in lot or on Winnebago Street.
Process: Members are encouraged to make introductions, describe endeavors, and make request for: contacts in target companies, needs, resources.
Contact: For assistance, call Tim Chapman 2 0 6 – 2 5 7 0

Those interested in upgrading their IEEE membership level should send their resumes or other information showing five years of significant performance in an IEEE-designated field to Charles J Gervasi via email at cj(at)cgervasi.com. Madison Section Board will attempt to find Senior IEEE members knowledgeable in the applicant's area of practice who may be able to provide references. You are invited to attend the informal networking portion of the monthly Section meetings (starting at 11:30am) to meet the Section Board members and discuss intentions.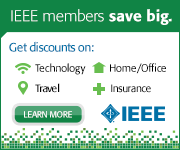 The Institute of Electrical and Electronics Engineers or IEEE (read Eye-Triple-E) is an international non-profit, professional organization dedicated to advancing technology innovation and excellence for the betterment of humanity. IEEE and its members inspire a global community through IEEE's highly cited publications, conferences, technology standards, and professional and educational activities. It has the most members of any technical professional organization in the world, with more than 300,000 members in around 150 countries. The IEEE consists of 38 societies, organized around specialized technical fields, with more than 300 local organizations that hold regular meetings. Discover what IEEE Member Discounts can offer you. The Member Discounts portfolio consists of insurance products and programs for the home, office and travel, all at excellent group rates and reduced pricing. Visit IEEE Member Discounts to see what's available in your location and enjoy the savings. For more information, please visit:
Electrical Design Engineering Manager, Chicago
Electronics Design Engineer, Sheboygan
<!–
–>

---