October 2015
October 2015
IEEE-MSN Newsletter
| | |
| --- | --- |
|   | Madison Section Newsletter |
| | | |
| --- | --- | --- |
| Vol. 18, No. 9 | Serving IEEE Members of South Central Wisconsin | October 2015 |
Thursday October 1st, 2015,

11:45 AM

Lecturer: Patrick G Stiennon, Stiennon &Stiennon,

Location: Secto67,




    2100 Winnebago Street  (East Side of Madison)

Time: 11:45 AM to 1:00 PM

This will be during the IEEE-Madison ECN Meeting Time for June

Bring your own lunch.  Beverages and snack items are available to purchase at Sector67

Please Register at the IEEE Madison Section

event page
Event: Patrick Stiennon will talk about intellectual property and patent issues from the perspective of both a patent attorney and an engineer with patents. He will also discuss the rising incidence of patent trolls and what can be done to avoid the pitfalls of the patent process.
Bio: Patrick Stiennon is a partner at Stiennon & Stiennon, formed in 2003 by former partners in the Madison, Wisconsin, law firm of Lathrop & Clark LLP. The firm's practice is exclusively intellectual property law, with an emphasis on providing patent prosecution services for corporate and in-house counsel. In 1978, Patrick was awarded B.S. Mining Engineering from the University of Wisconsin-Madison and in 1982, his J.D. University of Puget Sound School of Law, Tacoma, Washington. From 1984–1989, Patrick was an engineer at Lockheed Missile and Space Corporation. He is also co-author of a novel "The Rocket Company", a fictional account of the development of a commercial two stage to orbit (TSTO) reusable launch vehicle (RLV).
Thursday, October 15th, 11:45 AM

Speaker: Paul Braun,  VP of Sales and Marketing at Continental Mapping Consultants

Details: Lecture and Pizza, Salad and Beverage


Fee: $5 IEEE Members, Free for IEEE Student Members, $10 Others

Please Register at the IEEE Madison Section event page.
Location: 

 

Promega BioPharmaceutical Technology Center

Room Number: 216/7

5445 E Cheryl Pkwy

Fitchburg,  Wisconsin
Please Register at the IEEE-Madison  event page.

Event: Unmanned Aerial Systems (UAS) are exploding as a cost effective solution for geospatial data collection. However, many people jumping into the UAS foray are finding that the production of accurate geospatial products, capable of effectively tying into their enterprise geospatial environments, is not as straight forward as they thought. Struggles arise with understanding data accuracies, knowing the limits of what content can be automatically extracted versus manually derived from the imagery, as well as the challenges around data management. To help understand how to mitigate those struggles, Continental Mapping will present some best practices for deriving map products from UAS imagery as illustrated through several project examples. The talk will provide a solid understanding of the accuracies that can be derived from UAS imagery as well as best practices for manipulating UAS imagery into geospatial data products..

Bio: Mr. Braun has over 25 years of experience in GIS and geospatial technology. As Vice President of Sales and Marketing, he is responsible for global sales and marketing efforts. Paul is also the founder of Taking Autism to the Sky (TATTS), a volunteer run, non-profit organization that leverages drones to develop social and employment skills for people on the autism spectrum while building quality, 3D products.
Section News

Review of September Events

5Nines Talk and Tour:  Anton (Tony) Kapela was a fountain of information on the issues surrounding 5Nine's business of providing IT hosting and Network Services.  He discussed a number of the key points of operating a high-availability facility.  Some of the key issues for the IT Datacenter Systems Architecture are Power, Facitities, and Interconnection. He showed pictures of the current state-of-the-art of high-end facilities, such as those Google uses, or NetFlix uses to support video data storage and transmission.  5Nine's customers span a wide range of needs from something as simple as a virtual host, to a quarter-rack, to a whole caged-in  and blocked off server farm.  He spent a bit of time talking about the power that a modern data center requires, from the redundant power inputs, to levels of UPS support and backup.  While a large amount of power goes into the datacenter, a lot of heat must leave the data center, requiring a lot of facility air conditioning.  The data communications link bandwidth requirements are amazing, especially in the evening hours when the large majority of bandwidth goes to supporting video transmission, mostly due to NetFlix.  

Tony talked about the ratio of energy in (electrical power, power conditioning overhead, and facilities energy for air conditioning and fans) to photon energy out as optical communication  links.  There are clearly 8 or 9 orders of magnitude diference in power consumed per watt of optical power generated.  Why is it so bad?  I was surprised to hear that the modern data center has equipment installed fully operational, but there is no maintenance of failed components.  Modern software algorithms assure that the data is reliably backed up and components are disabled when they fail, but not replaced until new technology pushes the old units out.  Tony also showed a project he worked on that used Chicago to New York RF data links to shave 2 milliseconds off the round-trip time, so that high-frequency traders could have an advantage over the terrestrial, slower links. 5Nines is the broadest local supplier of non-terrestrial (Wireless) data transmission facilities for a large fraction of the Madison area. After the talk, most of the attendees toured the 5Nines Data Center and saw first hand some of the technology Tony talked about.  Tony has given us a copy of the slides available at this GoogleDocs Link.

Upcoming Meetings

ECN Meeting: The October ECN meeting will feature Patrick Stiennon who promises to give a patent and intellectual property overview as well as insight into the "patent troll".  If developing new ideas is your current focus, join the ECN discussion with Patrick.

Section Meeting: I heard Paul Braun give this talk at a recent Western Great Lakes Region Chapter of the American Society for Photogrammetry & Remote Sensing.  The new, inexpensive Unmanned Aeronautical Systems can be deployed for local data collection to supplement the more costly piloted aircraft or space-borne instruments.  However, there are many pitfalls if you do not understand the limits of the technology.  Also, a survey team can generate a Terrabyte of data each week they are out in the field.  Paul's specific examples bring home the key issues and he discusses how to integrate UASs into the mapping process.  I am sure you will enjoy it.

November Section Meeting/Bioengineering Society Chapter meeting:  Dennis Bahr is working on finding a presenter for the Engineers in Biology and Medicine Chapter, November meeting to be held jointly with the Section.  If you have any ideas of a topic that would interest you, drop us a line (via e-mail!).

 

IEEE-USA Call for Political Support


Politicians often have no one to help them interpret advanced technology, or the impact of laws on technology. There are several ways that you can become involved in the political process, including technical internships in Washington DC.  Here in Wisconsin, the League of Women Voters of Wisconsin and American Society of Civil Engineers (ASCE) – Wisconsin Section joined together to present four free public forums around the state.  The next one will be held in Madison at the University of Wisconsin College of Engineering on September 30th.  Details can be found at this link.  The IEEE-USA has a paper entitled "Connecting with Your Capitol: How Local IEEE Members Can Influence Their State Governments".  You can read more about it at this link. What do you think?  Should we become more involved in government?

Volunteers Needed

Micro Volunteers: Do you have some time to spare to help IEEE-Madison Section?  Perhaps you have a meeting topic that you would like to see us host and could find a speaker.   Maybe you have time to call a few members who might have forgotten to renew their membership. 

Antenna Modeler: Do you have experience with designing and modeling antennas?  The UW-Madison IEEE Student Branch project team would love to have you help them model the RDF antennas they have built.

Please consider sending some time helping with the Section activities.  Let me know (tjkaminski (at) ieee.org).

Section Meetings

The third Thursday of January through May, and September through December is reserved for a meeting to provide recent research, developments, trends and/or innovations in one of our membership's technical areas.

IEEE-MSN-ECN Networking Meetings

Purpose: Presentations, Discussions, networking

Date: First Thursday of even-numbered months

Time: 11:45 AM to 1:00 PM

Location: Sector67, 2100 Winnebago Street (East Side of Madison)

Parking: Park in lot or on Winnebago Street.

Process: Members are encouraged to make introductions, describe endeavors, and make request for: contacts in target companies, needs, resources.

Contact: For assistance, call Tim Chapman 2 0 6 – 2 5 7 0

Those interested in upgrading their IEEE membership level should send their resumes or other information showing five years of significant performance in an IEEE-designated field to Charles J Gervasi via email at cj(at)cgervasi.com. Madison Section Board will attempt to find Senior IEEE members knowledgeable in the applicant's area of practice who may be able to provide references. You are invited to attend the informal networking portion of the monthly Section meetings (starting at 11:30am) to meet the Section Board members and discuss intentions.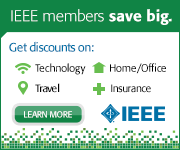 The Institute of Electrical and Electronics Engineers or IEEE (read Eye-Triple-E) is an international non-profit, professional organization dedicated to advancing technology innovation and excellence for the betterment of humanity. IEEE and its members inspire a global community through IEEE's highly cited publications, conferences, technology standards, and professional and educational activities. It has the most members of any technical professional organization in the world, with more than 300,000 members in around 150 countries. The IEEE consists of 38 societies, organized around specialized technical fields, with more than 300 local organizations that hold regular meetings. Discover what IEEE Member Discounts can offer you. The Member Discounts portfolio consists of insurance products and programs for the home, office and travel, all at excellent group rates and reduced pricing. Visit IEEE Member Discounts to see what's available in your location and enjoy the savings. For more information, please visit:
Industrial Automation 18-mo Contract in Waukesha
EE Project Manager Position in Industrial Automation – Waukesha
<!–
–>

---