May 2015
May 2015
IEEE-MSN Newsletter
| | |
| --- | --- |
|   | Madison Section Newsletter |
| | | |
| --- | --- | --- |
| Vol. 18, No. 5 | Serving IEEE Members of South Central Wisconsin | May 2015 |
Date:

Friday

, May 8th, 2015,

11:35 AM


(Note Day and Time!)

Speaker: Prof. David L. Nelson and
               Olga Trubetskoy

Location:  Madison Public Library – Sequoya Branch
               4340 Tokay Boulevard
               Madison, WI 53711
Time: 11:35 AM to 12:50 PM
Bring your own brown bag lunch.  Free snacks will be provided.
Please Register at the IEEE Madison Section event page
Event:
This is the first event planned by the newly formed Life Member Affinity Group(LMAG) for the IEEE-Madison Section
. 
The talk will be proceeded by an opportunity to socialize and meet the LMAG organizers.  Bring your own lunch — some beverages and snacks will be provided.  If you are interested in learning ore about, or participating in LMAG activities, be sure to attend.  The meeting is open to the public — all IEEE members are welcome to attend.
Talk:
David will discuss the mission of the Madison Science Museum which is to create compelling and inspiring experiences connected to local expertise in biomedical sciences, engineering, information sciences, health care and biotechnology and educating our community about local and global advancement in science and technology. This presentation focuses on motivation via the history of science and technology in Madison for the museum and on its future plans.   Olga will present specific projects for which the Museum might have an interest in getting help from IEEE.

Thursday,May 14th, 2015,

11:30 AM


(Note Time change!)
Lecturer: Steve Starrett, Details here.
Location: Madison College West Campus, Room 208
        302 S. Gammon Road
        Madison, WI 53717
0.1 CEUs, 1 PDHs Certified, free for IEEE Members,
     $10 Registration for Non-IEEE Members
Food and Beverage will be available for $5 IEEE Members, $10 Non-Members
Please Register at the IEEE Madison Section event page.
Talk:
This tutorial is designed to introduce engineers whose work deals with issues of sustainability to ethical considerations and the IEEE Code of Ethics. Dr. Starrett defines sustainable engineering as the "process of using energy and resources at a rate that does not compromise the natural environment, or the ability of future generations to meet their own needs." He reviews two codes of ethics (the IEEE Code of Ethics and the ASCE Code of Ethics) that can provide guidance for engineers faced with ethical dilemmas in this area.

Date: Thursday, June 4th, 2015
Speaker:  Chris Meyer, Sector67
Location:  Sector67,
     2100 Winnebago Street  (East Side of Madison)
Time: 11:45 AM to 1:00 PM
This will be during the IEEE-Madison ECN Meeting Time for June
Bring your own lunch.  Beverages and snack items are available to purchase at Sector67
Please Register at the IEEE Madison Section event page.

Chris Meyer is a local expert on 3D printing and all things related to Hacker Spaces.  He will give a brief presentation on the Sector67 3D printing technology and demonstrate how it is done. He will also discuss rapid prototyping of PC boards.  If you are not familiar with Sector67, check out their web site here.   You will be amazed at the things that are happening at Sector67. 
Section News

Student Competitions Funded in Part By

IEEE-Madison




The IEEE-Madison Section has contributed to student competitions for Energy Innovation and Sustainability.  The Dvorak Energy Innovation Prize, First Place ($5,000) was awarded to Eric Ronning (mechanical engineering), Will Doniger (materials science and engineering), and Brian Pekron (nuclear engineering), for the invention of the Remex Static Mixer that uses up to up to 33 percent less energy compared to other mixers on the market. Second Place ($1,000) for a device called "Dr Detector", a drone that searched for pipeline gas leaks, was awarded to a team consisting of Cheng Liu, Ph.D. candidate in Nuclear Engineering, Hanwen Chen, M.S. candidate in Electrical and Computer Engineering, Kelsey Beuning, a junior studying International Studies and Marketing, and Bill Mulligan, a junior majoring in Biochemistry.  Cheng Liu was enrolled in the IEEE-Madison "So You Want to build a Drone" Workshop last December.  Dr. Detector also won "Best Business Plan" in Qualcomm Innovation Competition at the UW-Madison.  Third Place ($500) went to Emonix, an automated heating, ventilation and air conditioning (HVAC) system for homes that can control the temperature of different rooms using sensors and smart vents. Team Emonix is led by Neil Klingensmtih, a Ph.D. candidate in Computer Engineering; Bharath Krishnamurthy, a graduate student in Electrical and Computer Engineering; Ananth Sridhar, a graduate student in Electrical Engineering; and Shashank Gupta, a graduate student in Electrical and Computer Engineering.

More information on the competition, as well as winners of the related Global Stewards Sustainability Challenge can be found at this link. Please consider a donation to the David Marca Memorial Fund. Students used our last year's donations to fund several of the projects. If members would like to make contributions, they can follow this link to donate. Under Designation select Other – detailed below. In the detailed instructions field enter The David Marca Memorial Fund for Student Energy Projects and Fund # 12347896. The professor responsible for WESC contest estimates the fund will disburse just over $1,000 per year. Please join members of the IEEE-Madison Section executive committee who worked with David and donate to this fund.


 

Review of April's Events

LENR Talk ( April Section Meeting): Gary Scott and Tom Wind both came to Madison for the the meeting presentation.  The event was held jointly with the UW-Madison IEEE Student Branch.  Gary and Tom took turns presenting an impressive array of data that definitely shows that LENR deserves consideration as an alternate to energy production.  The last few slides in the presentation discussed the potential future applications of the technology.  A primary use will be thermal sources, such as industrial boilers — a path the Rossi and Industrial Heat seem to be pursuing.  Following the talk, there was a lively discussion where IEEE members probed LENR in detail, leading to more information about LENR. If you missed the talk, you can see the entire recorded presentation at the College of Engineering Media Site link LENR Talk Energy 2.0. If you want more information on the development of the technology, the eBook "An Impossible Invention" by Mats Lewan discussing Rossi (the inventor) and major events in detail is available for download by clicking here: An Impossible Invention. Use the code IEEE for a discount.

ECN Meeting on Ionic: A good size crowd turned out for Perry Govier's talk on Ionic. Ionic is a powerful HTML5 native app development framework that helps you build native-feeling mobile apps all with web technologies like HTML, CSS, and Javascript. It requires AngularJS, an open-source Javascript development framework.  Ionic is also open-source.  Perry discussed the basics of developing a mobile application for both Android and iOS applications and concluded the talk by showing how to create a basic App. There were many questions from the audience during the presentation and Perry fielded them all.  One of the most interesting questions brought up the topic of "How do you make money when you give away the code free?"  Perry mentioned that one of the big markets for Ionic is for developing closed Apps that companies use to do such things as connect the sales force to product inventory.  Drifty, the company who developed Ionic, makes money by helping companies develop these closed Apps for internal use. 




Upcoming Meetings


LMAG: May 8th is the first meeting scheduled by the newly formed Life Members Affinity Group (LMAG) for the IEEE-Madison Section.  The meeting will be a talk on the Madison Science Museum, preceded by a short time to interact socially. Specific projects will be presented for which the Museum might have an interest in getting help from IEEE. Chuck Kime was elected as Chair and Chuck Cowie was elected as Vice-Chair for the group. According to Chuck Kime, the new IEEE Madison Life Members Affinity Group plans to offer a diversity of interesting topics at the meetings and engage in meaningful projects. Chuck invites life members, but also invites and encourage all members of the  IEEE Madison community, to attend our meetings and to participate in our projects. They are very interested in recruiting others to the LMAG and to discuss other events that the group can hold.

There will be no IEEE-Madison Section Meeting in May.

Volunteers Needed


Young Professionals: New Professional members of IEEE, previously called "GOLD" are now called Young Professionals and cover those who have graduated in the last 15 years. The IEEE-Madison Section now has over 140 members who are considered "Young Professionals". Are you interested in getting together with others to plan social, professional, job fair, and mentoring events? Would you like to help organize a Young Professionals Affinity group here in Madison? Would you like to work with student IEEE members to help them transition into Professional EEs? Please let me know (tjkaminski-at-ieee.org).

Section Meetings

The third Thursday of January through May, and September through December is reserved for a meeting to provide recent research, developments, trends and/or innovations in one of our membership's technical areas.

IEEE-MSN-ECN Networking Meetings

Purpose: Presentations, Discussions, networking
Date: First Thursday of even-numbered months
Time: 11:45 AM to 1:00 PM
Location: Sector67, 2100 Winnebago Street (East Side of Madison)
Parking: Park in lot or on Winnebago Street.
Process: Members are encouraged to make introductions, describe endeavors, and make request for: contacts in target companies, needs, resources.
Contact: For assistance, call Tim Chapman 2 0 6 – 2 5 7 0

Those interested in upgrading their IEEE membership level should send their resumes or other information showing five years of significant performance in an IEEE-designated field to Charles J Gervasi via email at cj(at)cgervasi.com. Madison Section Board will attempt to find Senior IEEE members knowledgeable in the applicant's area of practice who may be able to provide references. You are invited to attend the informal networking portion of the monthly Section meetings (starting at 11:30am) to meet the Section Board members and discuss intentions.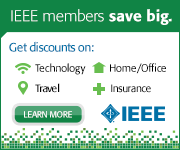 The Institute of Electrical and Electronics Engineers or IEEE (read Eye-Triple-E) is an international non-profit, professional organization dedicated to advancing technology innovation and excellence for the betterment of humanity. IEEE and its members inspire a global community through IEEE's highly cited publications, conferences, technology standards, and professional and educational activities. It has the most members of any technical professional organization in the world, with more than 300,000 members in around 150 countries. The IEEE consists of 38 societies, organized around specialized technical fields, with more than 300 local organizations that hold regular meetings. Discover what IEEE Member Discounts can offer you. The Member Discounts portfolio consists of insurance products and programs for the home, office and travel, all at excellent group rates and reduced pricing. Visit IEEE Member Discounts to see what's available in your location and enjoy the savings. For more information, please visit:
Java Software Engineer at The Weather Channel in Madison
Product Engineer
Electromechanical Engineer
<!–
–>

---