March 2015
March 2015
IEEE-MSN Newsletter
| | |
| --- | --- |
| | Madison Section Newsletter |
| | | |
| --- | --- | --- |
| Vol. 18, No. 3 | Serving IEEE Members of South Central Wisconsin | March 2015 |
Thursday, March 12th
Details: One Hour eLearning Seminar starting at

5:30 PM

.
Meeting: eLearning talk details at this link.
Location: Madison Area Technical College Room A2219
 1701 Wright Street, Madison, Wisconsin 53704
 Park in the Visitors Lot as shown here.
0.1 CEUs, 1 PDHs Certified, free for IEEE Members,
$10 Registration for Non-IEEE Members
Food and Beverage will be available for $5 IEEE Members, $10 Non-Members
Please Register at the IEEE Madison Section events page .
There will be a short tour of the new MATC Ingenuity Center after the seminar

NOTE: Both the TIME and LOCATION have changed for this eLearning Seminar

Talk: In the field of renewable energy designing power processing systems characterized by high efficiency (>98%) and reliability (MTBF>20-25 years) remains a challenge. Only when systems exhibit these key features will renewable sources really be competitive with traditional ones. Even though a number of new topologies and electronic devices have been proposed for improving the converter characteristics, these efforts have fallen short. This is because there has not been a similar evolution in control strategies, where the classical linear approach continues to be applied intensively. The objective of this tutorial – which is part of the IEEE eLearning Library Industrial Electronics Series – is to introduce the basic concept of nonlinear control by focusing on an emergent control technique which can be used for improving the performances of photovoltaic and fuel cell power processing systems.

Date: Monday, March 16th, 9:00 AM
Location: 

 


Tom Kaminski's House
842 Woodrow Street
Madison, WI 53711
Please Sign Up at the IEEE Madison Section event page.

Agenda: This initial organization meeting is to select the meeting schedule for the LM Group and set up the organizational structure.  Please attend if you are interested in the group.  The meeting is open to all members, but is organized by Life Members whose combined age plus years of IEEE Membership exceeds 100 years and the Member is 65 years or more old.  If you are interested in the group, but cannot attend, please contact Tom Kaminski (tjkaminski at ieee.org).

Date: Monday, March 16th, 11:30AM
Speaker:Dennis Bahr, PhD, PE
Vice President of R&D, HelionX, LLC
Details: UW-Madison Biomedical Engineering Seminar

Fee: Free pizza and drinks provided by IEEE-Madison EMB018 Chapter

Please Register at the IEEE Madison Section event page.
Location: 

 


Tong Auditorium, Room 1003
Engineering Centers Building
1550 Engineering Drive, Madison
UW Lot 17 (fee) is closest parking.  Check for Parking Availability here.

Talk: The job of the entrepreneur is to come up with a solution that can save lives, save money, or produce a better solution that is more precise and/or accurate. I will discuss some of the do-s and don't-s for an entrepreneur and spend the rest of the time discussing how to find the significant problems that need to be solved and how to develop the solution to solve these problems ("how to think out of the box"). I will use examples from my own work including a signal extraction method called the Period Transform, the narrow band auscultatory blood pressure measurement, and a method to detect and quantify hemorrhage during significant trauma..

Date: Thursday, March 19th, 2015, 11:30 AM
Speaker: Ron Pulvermacher,  founder and President of Matrix Product Development
Details: Lecture and Pizza, Salad and Beverage


Fee: $5 IEEE Members, Free for IEEE Student Members, $10 Others

Please Register at the IEEE Madison Section event page.
Location: 

 


Promega BioPharmaceutical Technology Center
Room Number: 216/7
5445 E Cheryl Pkwy
Fitchburg,  Wisconsin
Talk:
A new up-coming international wireless standard that evolved out the Savi "container seal" IEC18000-7 standard has unique advantages over other protocols such as Zigbee.  It is a long range, low data rate, sub-GHz, low power protocol.  It uses ad-hoc time synchronization that allows a router to remain battery operated on sensor networks that access data infrequently.  This means that a wireless sensor network can be installed in minutes rather than a day without requiring a specialist.  The ability for any node to talk to any other node or group of nodes is an enormous advantage in many situations.  In summary, it is a BLAST…..Bursty, Light, Asynchronous, Stealth, Transient protocol.   

Date: Wednesday, April 1st, 2015, 12:15 PM (Note Date and Time change!)
Speaker: Perry Govier, Senior Developer at Drifty
Location: Sector67, 2100 Winnebago Street  (East Side of Madison)
Time: 12:15 PM to 1:15 PM
This will be during the IEEE-Madison ECN December Meeting Time
Bring your own brown bag lunch.  Beverages and snack items are available to purchase at Sector67
Please Register at the IEEE Madison Section event page
Talk:
Mobile app development is a growing field with plenty of promise. It used to be that hybrid mobile apps weren't ready for prime time — they were slow and unattractive. Then, along came AngularJS, which changed the way developers built apps for the web. Ionic, made by Madison-based software start-up Drifty, is built on top of AngularJS and has dramatically changed the way developers build mobile apps. It's open source, easy to use, beautiful, and ready to perform. In this talk, Perry Govier, a Drifty developer, will walk through Ionic's features and structure.  Time allowing, he'll run a quick live demo of how to get started building your own mobile app using web technologies.  

Date: Thursday, April 16th, 2015, 5:30 PM
Speaker: Gary Scott,  Principal Founder of Energy 2.0 Society
Details: Lecture and Pizza, Salad and Beverage


Fee: $5 IEEE Members, Free for IEEE Student Members, $10 Others

Please Register at the IEEE Madison Section event page.
Location: 

 


TBD
Talk:
At the moment the most promising forms of LENR (Low Energy Nuclear Reactions some times incorrectly referred to as Cold Fusion) are those that are able to operate using nickel and hydrogen — both plentiful and inexpensive natural resources. In LENR reactions no pollutants or emissions are produced, neither are harmful radiation or radioactive waste. This makes LENR a clean and sustainable form of energy. We are in the very early days of research and development in this field, and much about this phenomenon is poorly understood. There are competing theories proposed that try to describe the exact mechanism by which this anomalous heat is generated, but none has as yet been accepted as authoritative. There are many researchers and companies studying LENR at the moment, and it appears that we are on the verge of seeing commercial-grade LENR reactors appear in the marketplace. Ultimately LENR has the potential to revolutionize the way that energy is produced — cleanly and less expensively than current energy sources, and from elements that are cheap and abundant — making it a truly '2.0' technology that we feel should be promoted for the benefit of humanity. 
Section News

Review of February's Events

The ECN Meeting: Tom Spinosa of J&K Security gave an interesting talk on the future of home automation.  He reviewed the relentless advance of technology and what its impact is on society. He projected how technological advances in computing and networking as well as social media will push advances in Home Automation.  Except for voice recognition technology that he claimed is "not there yet", all of the building blocks are in place for advanced Home Automation systems.  A lively discussion ensued roughly breaking down along generational lnes about the potential need for the Home Automation systems. 

The eLearning seminar on Battery Basics was interesting, though somewhat dated.  Those in attendance felt that the latest advances were not covered.  I learned quite a bit about batteries and thought it was a worthwhile seminar.  PDH/CEU credits were available for those interested in getting them.

The February Section Meeting was attended by over 25 people.  Scott Olsen used projections on energy use across a number of sources to show where we are today and what is projected for tomorrow.  The talk was also well attended by IEEE Student Branch members.  I was surprised at a graph of cost to add new energy verses type added.  Energy Efficiency was one of the best.

The Region 4 Student Leadership Conference at UW-Madison was quite a success, despite UW-Madison being selected very late in the game after IIT dropped out.  The IEEE-Madison Section kicked in some money for the deposits, but most of the cost of the conference was borne by corporate donations that the students raised through a direct appeals.  There were Banquets with keynotes, Tech Talks, leadership training events, student project exhibitions, student competitions, and opportunities to met with corporate recruiters.  I was impressed with the competitions that featured "Brown Bag Circuits" where students had to build circuits from a bag of parts with a general outline of what it was to do, a Micro-Mouse-Maze event with specific mazes that had to be run, and a paper/presentation on Ethics from a description of an ethical dilemma.


UW-Madison "Drone" Project Update:  After a project kick-off meeting in mid-February, ten students are participating in using Drones to solve societal problems.  The students are now collaborating with David Drake, Associate Professor and Extension Wildlife Specialist in the Department of Forest and Wildlife Ecology at UW-Madison and his graduate students as they track fox and coyotes in Madison.  This gives additional incentive to the students and an opportunity to talk directly with an on-campus "customer" who can help direct the goals for the project.  In the meantime, a prototype "quad" antenna and a pseudo-doppler switch has been fabricated, in part using the surface-mount reflow equipment in the ECE Department.  Project Lifesaver International has sent a pair of their transmitting bracelets and the students have purchased loCATor transmitters of a similar size for ham-band use.  Initial tests of the switch with DVB-T dongles and Software Defined Radios using the loCATor transmitters are promising. 

Upcoming Meetings

March Meetings: The announced eLearning topic for March is based on control strategies to maximize the production of renewable energy such as solar and fuel cell power.  It is a also a  talk on non-linear control techniques for power convertors. Following the lecture, there will be a short tour of the Ingenuity Center at MATC so you can see where your bond issue dollars went.  The Section meeting talk is by Ron Pulvermacher who serves as Treasurer and is on the Board of the Dash-7 Alliance. He has developed many RFID and low-power sensors with RF connectivity and will talk about a new standard for long range, low-power, sub-gigaHertz technology that has many advantages over Zigbee. Also that month, Dennis Bahr will talk at the UW-Madison BioEngineering Seminar about his experience starting biomedical companies. His talk will be co-sponsored by the IEEE-Madsion Engineering in Medicine and Biology Chapter (EMB018) and will also feature a push for students to join the Society and the local Chapter. 

April Meetings: For April, the ECN Meeting has been moved early one day (on April Fool's Day – Wednesday instead of Thursday) to allow Perry Govier to talk just before he attends a meeting in Japan. Perry is a developer for Ionic code at Drifty, a fast growing local startup whose products are gaining significant market share.  The Madison Section Meeting in April will feature an IEEE member from Iowa who has helped to form the Energy 2.0 Society. Its goal is to make people aware of an emerging new energy technology called LENR. As of this date, there have been several documented tests of the technology that show a COP of greater than 3 with an energy density in the realm of nuclear reactions, but with no harmful radiation or radioactive byproducts. It promises to be a significant new technology that is sorely needed in the face of global climate change. We are still looking for an appropriate place to hold the meeting.  If you have an appropriate venue, let us know.

Donations and Volunteers Needed


David Marca Memorial Fund: Consider making a contribution this year to the fund in David Marca's memory. If members would like to make contributions, they can follow this link to donate. Under Designation select Other – detailed below. In the detailed instructions field enter The David Marca Memorial Fund for Student Energy Projects and Fund # 12347896. The professor responsible for WESC contest estimates the fund will disburse just over $1,000 per year. Please join members of the IEEE-Madison Section executive committee who worked with David and donate to this fund.

Young Professionals: New Professional members of IEEE, previously called "GOLD" are now called Young Professionals and cover those who have graduated in the last 15 years. The IEEE-Madison Section now has over 140 members who are considered "Young Professionals". Are you interested in getting together with others to plan social, professional, job fair, and mentoring events? Would you like to help organize a Young Professionals Affinity group here in Madison? Please let me know (tjkaminski-at-ieee.org).

Section Meetings

The third Thursday of January through May, and September through December is reserved for a meeting to provide recent research, developments, trends and/or innovations in one of our membership's technical areas.

IEEE-MSN-ECN Networking Meetings

Purpose: Presentations, Discussions, networking
Date: First Thursday of even-numbered months
Time: 11:45 AM to 1:00 PM
Location: Sector67, 2100 Winnebago Street (East Side of Madison)
Parking: Park in lot or on Winnebago Street.
Process: Members are encouraged to make introductions, describe endeavors, and make request for: contacts in target companies, needs, resources.
Contact: For assistance, call Tim Chapman 2 0 6 – 2 5 7 0

Those interested in upgrading their IEEE membership level should send their resumes or other information showing five years of significant performance in an IEEE-designated field to Charles J Gervasi via email at cj(at)cgervasi.com. Madison Section Board will attempt to find Senior IEEE members knowledgeable in the applicant's area of practice who may be able to provide references. You are invited to attend the informal networking portion of the monthly Section meetings (starting at 11:30am) to meet the Section Board members and discuss intentions.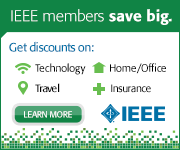 The Institute of Electrical and Electronics Engineers or IEEE (read Eye-Triple-E) is an international non-profit, professional organization dedicated to advancing technology innovation and excellence for the betterment of humanity. IEEE and its members inspire a global community through IEEE's highly cited publications, conferences, technology standards, and professional and educational activities. It has the most members of any technical professional organization in the world, with more than 300,000 members in around 150 countries. The IEEE consists of 38 societies, organized around specialized technical fields, with more than 300 local organizations that hold regular meetings. Discover what IEEE Member Discounts can offer you. The Member Discounts portfolio consists of insurance products and programs for the home, office and travel, all at excellent group rates and reduced pricing. Visit IEEE Member Discounts to see what's available in your location and enjoy the savings,  For more information, please visit:
<!–
–>

---