January 2015
January 2015
IEEE-MSN Newsletter
| | |
| --- | --- |
| | Madison Section Newsletter |
| | | |
| --- | --- | --- |
| Vol. 18, No. 1 | Serving IEEE Members of South Central Wisconsin | January 2015 |
Date: Thursday, January 8th, 2015
Meeting: eLearning Course on  Basics of Solid State Lighting, details at this link.
Details:

One Hour eLearning Seminar starting at 12:00.

Location: ACS, 3119 Deming Way, Middleton, WI 53562
0.1 CEUs, 1 PDHs Certified, free for IEEE Members,
$10 Registration for Non-IEEE Members
Food and Beverage will be available for $5 IEEE Members, $10 Non-Members
Please Register at the IEEE Madison Section events page.
Talk:
This course presents an introduction as well as reference materials for professionals working in solid-state lighting. Course materials include the operating principles, device physics, fabrication, and applications of light-emitting diodes. Course materials also include a detailed discussion of daylight illumination sources, planckian sources, human vision, eye sensitivity, photometric and radiometric quantities, and color rendering capabilities of light sources.
Keywords:
Planckian radiator , chip shaping , external quantum efficiency , extraction efficiency , internal quantum efficiency , luminous efficacy of radiation , luminous efficiency of a source , power efficiency , radiometric units , wavelength converter

Date: Thursday, January 15th, 2015
Speaker: Ingrid McMasters, LC
Details:

Lecture and Tour of ETC, starting at 5:30PM

Appetizers and Beverages will be served Free of Charge.

Please Register at the IEEE Madison Section event page.
Location: 

 


Electronic Theater Controls, Inc.
3031 Pleasant View Rd.
Middleton, Wisconsin 53562

NOTE: 

This is an EVENING Meeting!

Talk: Ingrid McMasters will discuss the reasons why LED lighting is quickly becoming the most specified light source in the market and provide a reality check on the pros and cons of the technology. She will share some of the most common applications and identify some of the myths of LEDs. She will also touch on why LEDs can be difficult to specify and use when compared to traditional lighting technologies.

Tour: Following the talk we will have a tour of Electronic Theater Controls facility. ETC is a global leader in the manufacture of lighting and rigging technology for entertainment and architectural applications. Founded in Madison, Wisconsin, in 1975, ETC was a college project that grew into a major business, with Fred Foster as the current chief executive officer. ETC's international headquarters is located in Middleton, Wisconsin. The company also has offices in Mazomanie (Wisconsin), New York, Hollywood, Orlando, Hong Kong, Copenhagen, Ede (the Netherlands), Rome, London, Berlin, and Holzkirchen (Germany). ETC employs nearly 900 people around the globe.
Section News

Review of December's Events

December Entrepreneur and Consultant's Network: Tom Kaminski presented an interesting talk from a quick review of Digital Signal Processing to the use of inexpensive USB-connected Software Defined Radio devices running on inexpensive System-on-a-Chip microprocessors.  The USB devices, based on a DVB-T Digital Broadcast TV receivers used in most of the world (outside of the US), cost as little as $12 and implement an RF amplifier, converter, and In-Phase and Quadrature digitizer that works up to 2.5 Mega Samples per Second (8-bits for each of I and Q).  Tom demonstrated the use of Open-Sourced SDR, such as GNUradio Companion, on his laptop and on both the RaspberryPi and BeagleBone Black SoCs.  Tom has provided this link of the slides he presented.

December "Hands On Drones" Workshop: The workshop was attended by a mix of IEEE members, Student Members, and the general public and successfully assembled, programmed, and flew four quad-rotor drones.  The workshop covered all of the basics required to understand how to build and fly emerging UAV (Unmanned Aeronautical Vehicle) systems.  The vehicles built were then donated to the UW-Madison Student IEEE branch for future drone-based projects.  It was held at UW-Madison College of Engineering, Engineering Hall Room 1438. Student Branch members Alex Gabourie, Alex Kocher, and Ahmed Saif helped teach the Hands-On portion and worked to install the needed software on both PCs in the room and on the RC Transmitters.


December Section Meeting: I apologize for not getting out an eNotice for the Volunteer Appreciation Event held at Brocach on the square.  The notice was not sent due to a miscommunication.  It was posted as a vtools Meeting notice, however.  Sixteen people attended and had a good time.  Thanks to all of the Volunteers working for the IEEE-Madison Section.



Upcoming Meetings

January Section Meeting: Scott Olsen, IEEE-Madison's new Industrial Outreach Chair, has planned a new type of event where we hold an event of current interest to our members at a local Industry.  The event will be held at Electronic Theater Controls in Middleton and will feature a presentation by a Ingrid McMasters, a lighting designer by trade. She has worked on all types of interior and exterior lighting in commercial and residential projects over the past 19 years. She is a true lighting geek and is a past president and program chair for the Illuminating Engineering Society – Madison Section. She is Lighting Certified through the National Council on Qualifications for the Lighting Professions (NCQLP) and currently serves as the NCQLP Test Committee chairperson. The event will also feature a tour of ETC that I am told is a quite an exceptional facility.  It also showcases many of the advanced lighting controls at its facility.  NOTE:  This is an evening meeting.  I hope you all can make it.

eLearning Course for January

: This month's topic is on Solid State Lighting (going with the theme of our Section Meeting) and will be held at the ACS, Inc. Middleton Facility.  Thanks again, ACS for supporting this event.  CEU/PDH credits are awarded upon completing a survey form at the end of the course.


Life Member Affinity Group: 

We were able to easily get the required 6 signatures on a petition and approval of the Life Member Chair of the IEEE and Region 4 and Madison Section Chairs for starting a Life Member Affinity Group.  As of the December 21st, 2014 the IEEE-Madison Section now has an official Life Member Affinity group. Please get in  touch with Tom Kaminski via email to tjkaminski(at)ieee.org if you are willing to help organize the Life Member Affinity Group.  We would like to schedule the first organizing meeting in January, 2015.

Volunteers and Sponsors Needed


SLC: The UW-Madison IEEE Student Chapter has been selected to plan and host the 2015 Region 4 Student Leadership Conference on the weekend of February 7-8th, 2015. The conference organizers (students!) need sponsors to help pay for the event. If your company is interested in accessing the engineering leaders of tomorrow and supporting the IEEE Student Leadership, please get in touch with Maggie White, Student Conference Organizer via email at mawhite6-at-wisc.edu.  Maggie has prepared a Sponsorship Booklet that we have placed on the IEEE-Madison Web site here. The Sponsorship levels are Graphene $10,000+, Platinum $7000, Gold $4500, Silver $3000, and Bronze $1500.

Young Professionals: New Professional members of IEEE, previously called "GOLD" are now called Young Professionals and cover those who have graduated in the last 15 years. The IEEE-Madison Section now has over 140 members who are considered "Young Professionals". Are you interested in getting together with others to plan social, professional, job fair, and mentoring events? Would you like to help organize a Young Professionals Affinity group here in Madison? Please let me know (tjkaminski-at-ieee.org).

Section Meetings

The third Thursday of January through May, and September through December is reserved for a meeting to provide recent research, developments, trends and/or innovations in one of our membership's technical areas.

IEEE-MSN-ECN Networking Meetings

Purpose: Presentations, Discussions, networking
Date: First Thursday of even-numbered months
Time: 11:45 AM to 1:00 PM
Location: Sector67, 2100 Winnebago Street (East Side of Madison)
Parking: Park in lot or on Winnebago Street.
Process: Members are encouraged to make introductions, describe endeavors, and make request for: contacts in target companies, needs, resources.
Contact: For assistance, call Tim Chapman 2 0 6 – 2 5 7 0

Those interested in upgrading their IEEE membership level should send their resumes or other information showing five years of significant performance in an IEEE-designated field to Charles J Gervasi via email at cj(at)cgervasi.com. Madison Section Board will attempt to find Senior IEEE members knowledgeable in the applicant's area of practice who may be able to provide references. You are invited to attend the informal networking portion of the monthly Section meetings (starting at 11:30am) to meet the Section Board members and discuss intentions.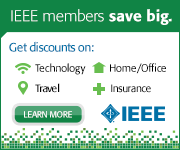 The Institute of Electrical and Electronics Engineers or IEEE (read Eye-Triple-E) is an international non-profit, professional organization dedicated to advancing technology innovation and excellence for the betterment of humanity. IEEE and its members inspire a global community through IEEE's highly cited publications, conferences, technology standards, and professional and educational activities. It has the most members of any technical professional organization in the world, with more than 300,000 members in around 150 countries. The IEEE consists of 38 societies, organized around specialized technical fields, with more than 300 local organizations that hold regular meetings. Discover what IEEE Member Discounts can offer you. The Member Discounts portfolio consists of insurance products and programs for the home, office and travel, all at excellent group rates and reduced pricing. Visit IEEE Member Discounts to see what's available in your location and enjoy the savings,  For more information, please visit:
<!–
–>

---