February 2015
February 2015
IEEE-MSN Newsletter
| | |
| --- | --- |
| | Madison Section Newsletter |
| | | |
| --- | --- | --- |
| Vol. 18, No. 2 | Serving IEEE Members of South Central Wisconsin | February 2015 |
Date: Thursday, February 5th, 2015
Speaker: Tom Spinoso, General Manager J&K Security
Location: Sector67, 2100 Winnebago Street  (East Side of Madison)
Time: 11:45 AM to 1:00 PM
This will be during the IEEE-Madison ECN February Meeting Time
Bring your own brown bag lunch.  Beverages and snack items are available to purchase at Sector67
Please Register at the IEEE Madison Section event page

Talk: Tom Spinoso will discuss components of Home Automation and give a brief introduction to J&K Secuitry's Smart Home.

About J&K Security: Jeff and Kim Beckmann opened J&K Lock Service and Supply in June of 1987. The following month Jeff's brother, Steve Beckmann, joined in on the adventure. Built on a core foundation of customer service, J&K began as a small "lock and key" shop serving the Greater Madison Area. The company ventured into the electronics security world by the mid-1990s as their business continued to grow. Today, J&K prides itself on being efficient in a vast majority of residential and commercial security services. J&K Security Solutions remains family owned and operated over 25 years later, while still abiding by the same core principal it was founded upon—serving the customer.

Thursday

,

February,  12th, 2014 at 11:45 AM.
Meeting: eLearning talk, details at this link.
Details:

One Hour eLearning Seminar starting at 12:00.

Location: ACS, 3119 Deming Way, Middleton, WI 53562
0.1 CEUs, 1 PDHs Certified, free for IEEE Members,
$10 Registration for Non-IEEE Members
Food and Beverage will be available for $5 IEEE Members, $10 Non-Members
Please Register at the IEEE Madison Section events page .

Talk: There is a great deal of interest in batteries today, particularly in lithium-ion batteries. This tutorial is one of five in a series developed by Robert Spotnitz, President of Battery Design, LLC. In this first tutorial Dr. Spotnitz provides an overview of batteries, including a brief history of battery development. Interest in lithium ion batteries centers around their vehicular applications. and Dr. Spotnitz reviews the types of batteries currently used in hybrid electric vehicles (HEV), plug-in hybrids (PHEV) and vehicles fully powered by batteries (battery electric vehicles or BEV). In a detailed discussion of batteries, he introduces the terminology, the battery market, types of batteries currently available, and the battery specification process. Finally, Dr. Spotnitz discusses Smart batteries and the various standards available for batteries.

Date: Thursday, February 19th, 2015, 5:30 PM
Speaker:Scott Olsen, PE, CEM, LEED AP
Details: Lecture and Pizza and Beverage


Fee: $5 IEEE Members, Free for IEEE Student Members, $10 Others

Please Register at the IEEE Madison Section event page.
Location: 

 


Wisconsin Energy Institute
1552 University Avenue, Madison, WI 53726

NOTE: 

This is an

EVENING Meeting!


UW Lot 17 is closest parking.  Check for Parking Availability here.

Talk: Scott Olsen will summarize the current trends and news making topics in the energy world.  This brief high level review will cover the three sectors,
Buildings (Commercial & Residential), Industrial, and Transportation. The talk will also highlight gas and electric utility issues including a bit on
the "fuels" used: energy efficiency, gas, nuclear, coal, wind, solar, and hydroelectric. The speaker will be expressing his views only and encourages a civil discussion at the end of the talk.
Section News

Review of January's Events

January eLearning: The webinar on LED lighting was well attended and packed a large amount of information in a short presentation.  It was supposed to cover operating principles of light-emitting diodes, principles of human vision, planckian sources, photometric and radiometric quantities, color rendering and the color-rendering index, and areas for present and future applications of solid-state lighting devices.  Unfortunately the network hung at about the one-hour mark and we did not get the later few portions of the webinar.  I learned that there are many areas to improve LED lighting, including improving efficiency and lowering cost.  LED lighting is now already a cost-effective technology, and will improve many-fold over the next decade.

January Section Meeting and ETC Tour: The evening was attended by over 35 people.  The meeting started with a period of appetizer and networking in ETC's impressive commons.  Ingrid McMasters then gave an interesting talk from the perspective of a "lumen geek" rather than a "photon pusher", showing many of the considerations of a lighting systems designer.  Ingrid brought an impressive array of lighting fixtures showcasing what is possible with LED lighting.  In addition, ETCs well-lighted performance stage was able to accent the effects of color temperature as she lectured about it, The tour was led by Heather Robbins and other colleagues, starting in the stock storage area, lit by innovative area lighting.  ETC also projected warning signs directly on the floor, eliminating the need for painted lines.  The tour then visited the automated manufacturing area where systems were built, tested, and burned in.  The tour ended in the metal forming area where sheets of metal were automatically stamped and formed for the lighting assemblies.  The ETC tour showcased an advanced manufacturer employing local people and automation to dominate an industry with competitive products.




Upcoming Meetings

February Section Meeting: Scott Olsen, PE, CEM, LEED A, will be giving a talk on Trends in Energy based on his experiences helping people to plan efficient use of energy.  It will be held at the Wisconsin Energy Institute, on the UW-Campus near the College of Engineering.   I hope you all can make it.  ECN Home Automation: Tom Spinosa will discuss this important topic and talk about J&K Security's Smart Home.  eLearning: The selected talk is on batteries from a series of eLearning talks developed by the IEEE Vehicular Technology Society.

Volunteers and Sponsors Needed


SLC: The UW-Madison IEEE Student Chapter has been selected to plan and host the 2015 Region 4 Student Leadership Conference on the weekend of February 7-8th, 2015. The conference organizers (students!) need sponsors to help pay for the event. If your company is interested in accessing the engineering leaders of tomorrow and supporting the IEEE Student Leadership, please get in touch with Maggie White, Student Conference Organizer via email at mawhite6-at-wisc.edu.  Maggie has prepared a Sponsorship Booklet that we have placed on the IEEE-Madison Web site here. The Sponsorship levels are Graphene $10,000+, Platinum $7000, Gold $4500, Silver $3000, and Bronze $1500.

Young Professionals: New Professional members of IEEE, previously called "GOLD" are now called Young Professionals and cover those who have graduated in the last 15 years. The IEEE-Madison Section now has over 140 members who are considered "Young Professionals". Are you interested in getting together with others to plan social, professional, job fair, and mentoring events? Would you like to help organize a Young Professionals Affinity group here in Madison? Please let me know (tjkaminski-at-ieee.org).

Section Meetings

The third Thursday of January through May, and September through December is reserved for a meeting to provide recent research, developments, trends and/or innovations in one of our membership's technical areas.

IEEE-MSN-ECN Networking Meetings

Purpose: Presentations, Discussions, networking
Date: First Thursday of even-numbered months
Time: 11:45 AM to 1:00 PM
Location: Sector67, 2100 Winnebago Street (East Side of Madison)
Parking: Park in lot or on Winnebago Street.
Process: Members are encouraged to make introductions, describe endeavors, and make request for: contacts in target companies, needs, resources.
Contact: For assistance, call Tim Chapman 2 0 6 – 2 5 7 0

Those interested in upgrading their IEEE membership level should send their resumes or other information showing five years of significant performance in an IEEE-designated field to Charles J Gervasi via email at cj(at)cgervasi.com. Madison Section Board will attempt to find Senior IEEE members knowledgeable in the applicant's area of practice who may be able to provide references. You are invited to attend the informal networking portion of the monthly Section meetings (starting at 11:30am) to meet the Section Board members and discuss intentions.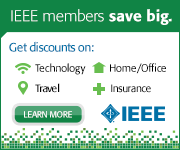 The Institute of Electrical and Electronics Engineers or IEEE (read Eye-Triple-E) is an international non-profit, professional organization dedicated to advancing technology innovation and excellence for the betterment of humanity. IEEE and its members inspire a global community through IEEE's highly cited publications, conferences, technology standards, and professional and educational activities. It has the most members of any technical professional organization in the world, with more than 300,000 members in around 150 countries. The IEEE consists of 38 societies, organized around specialized technical fields, with more than 300 local organizations that hold regular meetings. Discover what IEEE Member Discounts can offer you. The Member Discounts portfolio consists of insurance products and programs for the home, office and travel, all at excellent group rates and reduced pricing. Visit IEEE Member Discounts to see what's available in your location and enjoy the savings,  For more information, please visit:
<!–
–>

---