Welcome Message from the
Conference Chair
Dear colleagues, As the flagship conference of the IEEE Robotics and Automation Society, ICRA will bring together the world's top researchers and most important companies to share ideas and advances in our field. Many of the most important developments in robotics and automation have historically been first exposed at ICRA, and 2019 will take this trend one step further. As the practical and socio-economic impact of our field continues to expand, the role of industry-centered activities has grown and will be a critical aspect of the meeting. Holding ICRA 2019 in Montreal reflects a fantastic confluence between the rapid growth in our field, the increasing impact of robotics societally, the recognition of robotics as a priority in Canada, and the growth of Montreal as a hub for new technologies. Montreal also happens to be a terrific city for visitors who want to do networking and scientific outreach in a welcoming and culturally vibrant context. Montreal is one of the oldest major cities in North America and has a truly exceptional and accessible culinary and nightlife scene, and it is readily accessible on foot from our conference venue. We welcome you to Montreal and are confident you will find it very rewarding. Just be prepared to feel a bit sad when you remember that you cannot stay forever.
Sincerely,
Greg Dudek
ICRA 2019 Conference Chair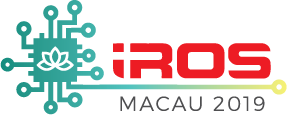 The 2019 IEEE/RSJ International Conference on Intelligent Robots and Systems (IROS 2019) will be held on November 3 – 8, 2019 in The Venetian Macao, Macau, China. IROS is one of the largest and most impacting robotics research conferences worldwide. It brings an international community of researchers, educators and practitioners to explore the frontier of science and technology in intelligent robots and systems, and discuss the latest advancements in this fast growing and exciting field. With the theme of "Robots Connecting People", the program of IROS 2019 will consist of technical sessions and multi-media presentations, as well as panel discussions, workshops, tutorials and exhibits to enhance technical communications among the attendees.