SA-SGW2019
CRONOGRAMA DEL EVENTO: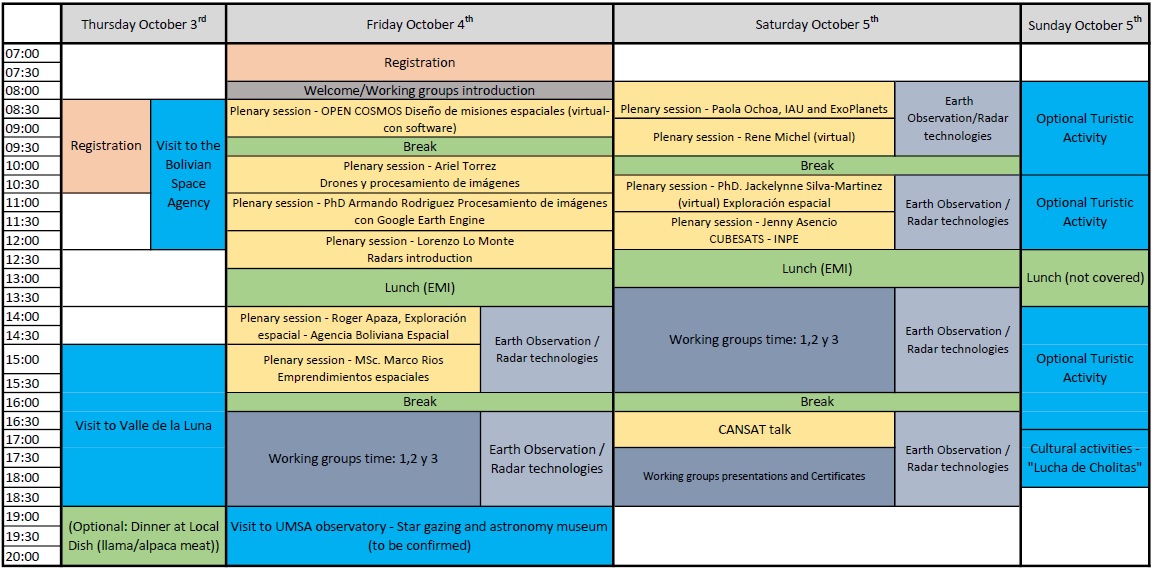 El SA-SGW será un evento con 3 cursos en paralelo, si quieres ser parte de las conferencias y grupos de trabajo en EXPLORACION ESPACIAL, EDUCACION AEROESPACIAL, IMAGENES SATELITALES, APLICACIONES ESPACIALES Y EMPRENDEDURISMO, regístrate en el siguiente link:
https://spacegeneration.org/sa-sgw-2019 sección Registration and Scholarship, luego realiza el pago de inscripción a esta cuenta:
Banco BNB:
1502820709
Nombre: Paola Escobari Vargas
Si deseas ser parte de los cursos cortos de TECNOLOGIAS DE RADARES O DE OBSERVACION DE LA TIERRA llena el siguiente formulario:
Radars short course: course description here

Conference Fees:
Professionals IEEE AESS 20$
Professionals IEEE 25$
Professionals 30$
Students EMI 11.5$
Students 20$
** The fee of the event covers coffee breaks, lunches of the 4th and 5th of October and the closing dinner of the 5th of October.
Observación de la tierra: descripción del curso acá
Costos del curso:
Profesionales IEEE 20$
Profesionales 30$
Estudiantes EMI 11.5$
Estudiantes 20$
** El costo de inscripción cubre refrigerios y almuerzos de los días 4 y 5 de Octubre.
REGISTRATION SHORT COURSES
REGISTRATION SHORT COURSES SA-SGW
PARA CONFIRMAR TU INSCRIPCIÓN A CUALQUIERA DE LOS EVENTOS, REALIZA EL DEPÓSITO DE INSCRIPCIÓN A LA CUENTA:
Banco BNB:
1502820709
Nombre: Paola Escobari Vargas
Envía el comprobante de depósito a: paola.a.escobarivargas@ieee.org
Not living in Bolivia?
Confirm your participation sending a copy of your flight tickets to: paola.a.escobarivargas@ieee.org.
You will pay the fee at the registration desk.
In case of any questions please send an email to: paola.escobari@spacegeneration.org